Affichage navigation
Type at least 3 characters to search
---
Longstone Classic Tyres
Longstone Classic Tyres
---
Buying Classic Tyres from The EU
The web site will calculate and pay all the taxes. What you see is what you pay.
Our worldwide vintage tyre deliveries are running smoothly. You can order with confidence.
---
COVID 19 Update
Our vintage tyre fitting service is now open again.
Phone & email - 7am – 5:30pm.
Classic Car Tyres
Longstone News
Renault Alpine Tyres
There have been a couple of developments in the range of tyres available for the Renault Alpine, which can only be good news for owners and drivers.
We still have the 165 HR 13 Michelin XAS asymmetric tyres of 1965 for the Alpine A110.
in the very near future, we will have the Pirelli 165R13 CN36 of 1968. For cars with wider wheels Pirelli also make a 175/70VR13 CN36 and a 185/70VR13 CN36 tyres which are very sensibly priced.
The Michelin 185 HR 13 XAS is back in stock! We were under the impression that Michelin would not make this tyre again, but they have made a fresh batch, don't miss them. They don't fit anything else, but they fitted the rear of the 1600 A310 matched with a 165HR13 Michelin XAS on the front, which is also available from stock.
The other fantastic development for the Alpine A310 is that Pirelli make the 285/40 VR 15 Cinturato P7 again, which matched with 205/50VR15 Pirelli P7 on the front is what the A310 V6 GT Boulogne fitted from July 1983.
Full Alpine Renault Tyres Blog
02/12/2021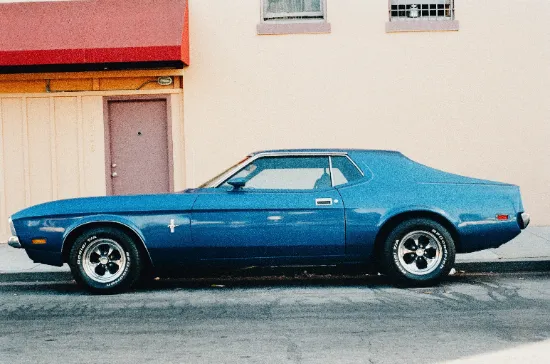 B.F.Goodrich Radial T/A for Ford Mustang
BFGoodrich Radial T/A tyres with raised white letters are suitable for Ford Mustang muscle cars.
The raised white letter BFGoodrich Radial T/A muscle car tyres are now E-marked and allowed for EU highways.
28/10/2021
185-15 Tyres
In 1960 many of the worlds best Sports car manufacturers such as Ferrari and Jaguar moved away from fitting 185 – 16 tyres, and started to fit 15" wheels. They would fit 6.40 – 15 or 6.70 – 15 crossply tyres or 185-15 radial tyres. Some sports car manufacturers would offer both.
The tyres in the picture from left to right:
Full 185-15 Tyres Blog
30/07/2021
How can you tell the Age of a Classic Tyre?
Since the 1980s all tyres have had a date code on them. This century it is a panel of 4 numbers on the sidewall of the tyre. There should be a series of letters and number starting with DOT on both sides of the tyre. On one side of the tyre, at the end of the DOT series of numbers and letters there should be a stadium shape stamped into the side of the tyre. If this is not on either side of the tyre, it is a pre 1980 tyre. Throw it away. If it has 4 numbers in it, then it is from this century. If it says 1705 that means it is from the 17th week of 2005; throw it away. If it says 2311 it is from the 23rd week of 2011; throw it away. If it says 2921 Bulls eye! 29th week of 2021. If the panel has 3 numbers and a triangle in it; throw it away its from the 1990s. If the panel simply has 3 numbers in it; throw it away it is from the 1980s and made out of plutonium, white rhino tusk, criptonite, whales blubber and asbestos.
Classic Tyre age
22/07/2021
XJS HE Tyres
Towards the end of the production of the pre HE Jaguar XJS, Jaguar started to take advantage of the new Pirelli P5 tyre that Pirelli and Jaguar had developed between them. The 6 cylinder XJS fitting the 205/70VR15 Pirelli Cinturato P5 and the XJS V12 fitting 215/70VR15 Cinturato P5. Both these tyres are being produced again by Pirelli for the, and have been homologated by Jaguar with a J. They are both also W speed rated. Towards the very end of the 1980s the various models of XJS HE Jaguar started moving over to fitting the 235/60VR15 Pirelli P600 tyres. Here lies the issue, this tyre is not currently manufactured.
XJS HE Tyres Blog
13/05/2021
VSCC Trials
At last we are freed a little from the Covid restrictions that have been taking a little bit of fun out of what we have been able to do. The VSCC's Exmoor Fringe Trial was planned originally for the 10th of April. However, all credit goes to the organisers in that they thought outside the box and moved the Trial at the last minute to the Monday the 12th.
On Thursday I drove my 1930 Model A Ford Tudor saloon the 1 mile journey home from work where the engine amusingly cut-out a quarter of a mile from home.
Full VSCC Trials Blog
22/04/2021
---
165R15 White Wall Tyres
---
Michelin now make a 165R15 XZX White Wall Tyre.
For some time there has been a selection of different white wall tyres available in the size 165R15. A large share of the demand for this tyre size comes from the world renown VW Beetle. What is such good news now is we have a genuine period classic Michelin white wall tyre. A white wall made by one of the world's best tyre manufacturer.
We offer special offers on:
Michelin 165R15 XZX Whitewall Blog
26/03/2021
---
Vintage Tyre Safety Blog
---
Something raised its head again recently that it is worth mentioning as a word of warning. On vintage cars with their open wheels, we can easily see the tread. There is no excuse to let these tyres get through to the canvas. We regularly here stories about how cavalier people where with these cars back in the day. People were driving these pre-war cars more frequently in those days, so the rubber didn't get so old, the roads were not as fast back then; for the car fitted with the shonky tyre, and the other road users, that are maintaining higher cruising speeds than was possible back in the 1970.
22/02/2021
---
Michelin XVR
---
The name XVR is simply an amalgamation of 2 terms. Michelin called their radial tyres the Michelin X. the XVR was the VR rated branche of the Michelin X range, hence XVR.
12/02/2021
Pirelli Collection
Pirelli are one of the world's oldest producers of pneumatic tyres. Their historic contribution towards the automobile movement over the years as a passenger car tyre manufacturer, has been remarkable. Today the Pirelli Collection range of tyres includes land mark historic tyres such as the 6.00V16 Stella Bianca. The highest performance crossply tyre that was fitted to cars such as the Ferrari 250 GT and the Maserati A6 back in the 1940s and 1950s. Today this is the highest specification Crossply tyre you can get for your pre 1960 Aston Martin, Ferrari Maserati, Jaguar, Bristol or Riley.
14/01/2021
The Jaguar XJ series are fantastic performance luxury cars. In the 1970's Jaguar moved the XJ6, XJ12 and XJS onto the Pirelli P5 tyres. This blog has some reminiscing from a Jaguar employee of the period that was involved in Jaguar and Pirelli's testing back in the 1970s
8/01/2021
So, can you fit inner tubes in tubeless tyres?
This is something we are asked about quite often, so we put it to Pirelli, one of the world's leading tyre manufacturers.
"
The following precautions must be taken when fitting an inner tube in tyres branded tubeless.

Using an inner tube in a tubeless tyre is possible on certain types of vehicle when the wheel is designed for mounting with an inner tube such as:

Non-safety wheels (without safety hump) or multi-piece wheels.
Wire spoked wheels where air could otherwise escape through the spoke holes in the wheel (so not completely air tight).

Application Restrictions

Only in tubeless tyres with a series or aspect ratio equal or higher than 70, i.e. 185/70 x 14 would be ok, 185/65x14 would not.
Only in tubeless tyres with a speed symbol equal or lower than V (max speed 149mph).
Not for motorsport application.

Recommendations

If an inner tube is to be fitted with a tubeless tyre it is imperative to carefully examine and ensure there is no feature inside the tubeless tyre or on the inside of the wheel rim which could cause premature tube failure, e.g. any paper or plastic identification stickers, these must be completely removed.
Always ensure that the inner tube is suitable for the specific tyre size.
"

-Pirelli Tyres S.p.A
8/12/2020
Classic Fiat 500 Tyres
Milan, 19 August 2020 – Pirelli is launching a new tyre for the iconic Fiat 500: the car that symbolised mass motoring in Italy more than any other. This new tyre forms part of the Pirelli Collezione: a family of classic tyres dedicated to cars from 1950 to 1990, which combine a classic look with modern technology, while maintaining the overall originality of the tyre as it was first made.
13/11/2020
1914 Stanley Steam Car
It's not every day you see a 106 year old Stanley Steam car on the road.
Recently purchased by its current owner and in need of a fresh set of 815 x 105 Ensign Chevron Cord Beaded Edge tyres.
The Ensign Chevron Cord is the direct replacement, using the exact same mould used to produce the no longer produced Dunlop Chevron.
29/10/2020
Longstone Videos
---
Vintage Tyres
---
Longstone Tyres
For some time now Longstone Classic Tyres have been renown as a world leading supplier of vintage tyres. Longstone hold enormous stocks of classic and Vintage tyres from the world's leading tyre manufacturers. Longstone keep close relationships with historic tyre manufacturers who are still interested in celebrating their heritage.
Michelin Collection
The Michelin Collection range of tyres has been pretty constant throughout history. Except for a few small gaps, Michelin's commitment to producing important vintage tyres such as the time-honored Michelin X has been exceptional. The Michelin X was the first radial tyre, fitted on the Citroen traction Avant, 2CV and early Citroen DS. Then of course the venerable XAS, where Michelin introduced the first asymmetric radial tyre, dramatically improving the high speed cruising ability of cars of the late 1960s. After this the Michelin XWX, a famous historic tread pattern fitted to Ferraris of the '70s and forever synonymous with the fabulous old Dino 246GT. In the late 1970s the excellent TRX, a ground-breaking tyre, allowed low profile tyres to still give an acceptable level of vibration absorption. The Michelin Collection range is now moving into modern classic, as well as vintage tyres with additions such as the MXV3-A for young timer hatch-back cars like the Golf GTi, Pilot Sport for Ferrari Testrossa, Dodge Viper and Aston Martin Vantage and SX MXX3 for modern classic Porsche. Michelin also make the exceptional range of TB15 and TB5 road legal tyres for classic tarmac rallies. Of course with these tyres, you know they are a Michelin so you have that guarantee of quality.
Lucas Vintage Tyres
Lucas Vintage tyres from the US offer an exceptional value range of proper vintage tyres. These are tyres that we at Longstone Tyres are happy to drive our vintage Model A Ford from one side of the country to the other. The quality is considerably better than you would expect for the price. Offering extremely good value for cars such as the 20/25 and 25/30 Rolls Royce in the guise of a 650-19. The 440/450-21 and 475/500-19 tyres are not just vintage tyres suited to Ford they are also great value for a wide range of vintage cars from both sides of the pond. The range also includes the vintage Wards Riverside 30-3½. This tyre has the unproven claim of being the most common tyre in the world in 1927, because it was the easiest Ford Model T tyre to get your hands on in America due to the Montgomery Wards catalogue and department stores that supplied the US with pretty much everything, including Tin Lizzie tyres.
Dunlop
Dunlop Sadly make no genuine vintage tyres or classic tyres for road cars. There are a few period Dunlop tread patterns on tyres made by other companies under licence. However Dunlop themselves do not manufacture them. They have also released a range of tyres called Dunlop Sport Classic. Sadly they are not proper classic tyres. They are modern tyres made in a few classic car tyre sizes. Generally we would suggest fitting a proper classic tyre, such as a Pirelli Cinturato, Michelin Collection tyre (such as XWX, XAS or XZX) or even the Dunlop SP Sport or Dunlop Aquajet, (that Dunlop are currently having made under licence) would be preferable to the Dunlop Sport Classic range.
Dunlop Racing Tyres
Where Dunlop do excel is their extensive range of historic Dunlop Racing Tyres. For years now Dunlop Racing Tyres have been a mainstay of the historic racing scene. Not just because they were very popular tyres in period, but the FIA recognise them as their control tyre. This is because Dunlop Racing Tyres have continuously maintained an extensive, all-inclusive range of tyres in their 204 compound. The 204 compound historic Dunlop Racing tyres can handle racing, while at the same time offering reasonable longevity. So if you want to go racing in your vintage Type 51 Bugatti you will start off with plenty of tread depth, you may even find you get a full season's racing out of a set. However what is important, is that the Dunlop Racing Vintage Tyres will return better lap times than any of the budget alternatives. It is not just Vintage tyres that the Dunlop racing range includes. The R5, CR65 and CR48 tyres of the 1950s & '60s are also used by the FIA as an excellent way of levelling the playing field for classic cars on a race grid that can be 10 years apart in development so the consistent 204 compound of the Dunlop vintage racing tyres helps make for a good race. Also worth noting the Dunlop Racing R1, Dunlop Racing 5-Stud and Dunlop racing R5 (on 16" wheels and taller) are road legal.
---
Classic Tyres
---
Avon
Avon make a small range of historic road tyres, such as the Avon Turbo Speed crossply tyre, for early David Brown Aston Martin and Rolls Royce Silver Cloud. Fortunately, Avon Also make a few crossply Turbo Speed for cars that would have originally fitted a Dunlop RS5 such as the 5.90H15 tyre for the Austin Healey. However many of these cars today want a radial tyre to make them more compatible with modern high speed cruising road conditions so they fit a tyre such as a radial Pirelli Cinturato, or Michelin XAS or XWX. Avon Also make a small range of budget classic radial tyres for those who want to stick with the brand Avon. Avon also nicely fill a niche with their small range of Avon Tourist HM tyres. They make a 4.50-17 for the Ford Pop and Morris 8 of the 1940s, and a few 16" tyres 5.25-16, 5.50-16 and 6.00-16, which we often recommend as good cross ply tyres for more proletariat cars of he '40s and '50s.
Avon CR6ZZ
Avon CR6ZZ is an excellent road legal range of modern race tyres that are produced in various sizes and used by high power classic cars on the track. What makes the CR6ZZ range stand out is that they have a very robust carcass with rounded shoulder that compliments the chassis set up of a classic car on the race track. They also offer an extensive range of tall tyres for wide 15" wheels.
White Wall Tyres
We offer an extensive range of White Wall Tyres from the likes of General, Firestone, Goodrich, Hankook, etc. The range of tyre sizes and white wall sizes is extensive. There are white wall radial and crossply tyre construction, which offers something for everyone. However, it is worth pointing out if you do have a European sports car, there are few more vulgar things you can do to your car than fit a white wall. It is understandable with a big American car, but if the handling of your car is something you value, then stick with a proper period tyre from a performance tyre manufacturer such as Michelin or Pirelli. If you are determined to fit a white wall tyre, but do want to maintain the handling that a period sports car offers we can also arrange to have a white wall built into the carcass of a tyre of your choice.
Pirelli Collezione
The Pirelli Collezione range of tyres, is a more recent range of classic and Vintage tyres, which is expanding nicely. Pirelli offer the correct and original 125R12 Cinturato tyre for the vintage Fiat 500, 6.00V16 Stella Bianca for cars like Maserati A6 and Ferrari 250 Europa, the crazy wide 345/35R15 P7 for the back of a Lamborghini Countach, and the tall 205R15 CN72 which was the largest tyre that could handle the power of the supercars of the Mid 1960s and was fitted to cars such as the Ferrari 500 Superfast, Maserati Ghibi, Lamborghini 400 GT and Iso Grifo. The Pirelli range also now offers a pretty comprehensive range of classic Porsche tyres from the 165R15 CN36 for early 911 & 356, to the 16" P7 tyres for the 964 and 928 of the 1990s. Two sizes of P700-Z have been added to the collezione range for the UR Audi Quattro, as well as a small range of the P5 tyres that Jaguar asked Pirelli to make for their luxury cars such as XJ6, XJ12, XJS and XJ40 of the late '70s and 1980s. The Pirelli Collezione range also includes the P7 Corsa Classic; road legal tyres for classic tarmac rallying.
At Longstone Tyres we are car enthusiasts first and foremost. We are keen to help our customers find the best tyre for their classic car.
Q: Do old Tyres have value?
A: It is unusual for an old tyre to have value. However the Vintage tyres that we supply world wide are newly produced vintage tyres in old sizes.
Q: Are old Tyres safe to use?
A: tyres that are over 10 years old are not safe to be used. The compounds will not grip properly and the structure of the carcass may not still be stable. Longstone Classic Tyres deal in newly manufactured vintage tyre designs that are fit for usage.