1980-1982-toyota-starlet
---
Toyota Starlet 1973–1999
---
Throughout its lifetime the Toyota Starlet fitted 145-13. The best tyre in this size is the 145HR13 PIRELLI CINTURATO CA67. Alternatively, we also have the 145 HR 13 Michelin XAS FF which is another fantastic period tyre.
The correct tube for these tyres is the Michelin 13CG.
Some Starlet's may be fitted with 155 R13 Tires due to the difficulty in sourcing 145R13 tires or a desire for a taller wider tire. If you are considering 155R13 tyres, we highly suggest the 155R13 PIRELLI CINTURATO CA67.
The best innertube for 155R13 tires is the Michelin 13D innertube.
Fitment data is hard to find for the Starlet, however, our period Dunlop Innertube Guide states that the Starlet 1000 manufactured from 1979-83 fitted tubeless wheels.
The Toyota Starlet 1300 "S" was the only Starlet that fitted a different tyre size throughout the Starlet's lifetime, that tyre size being 165/70 - 13. Unfortunately, no classic tyre manufacturer currently makes a tyre of this size.
Toyota Starlet Recommended Tyres

---
---
History of the Toyota Starlet
The Toyota Starlet was released in 1973 as the Publica P30 model's higher-grade, larger model. These initially came out as a 2-door coupe but then moved to 4-door sedans in October 1973. Eventually, the Starlet would replace the Publica but kept its product code and generation numbering.
Even though similar cars like the Datsun Cherry and other superminis were very popular in the UK at the time, the original P30 Starlet was not sold in Europe. In the second generation, UK exportation came about for the Starlet and was a success sales-wise.
Unfortunately the 60 series of these cars are very prone to rust, this, their feature as the last rear-wheel-drive Starlet and their use as track and rally conversions have made them a collectors car. Another popular collectors car is the GT Turbo variations that were introduced in 1990, which has a real cult following.
---
Innertube Guides
---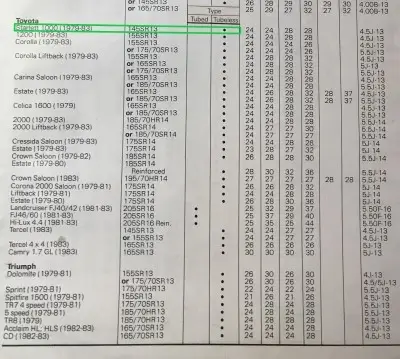 1979-83 Dunlop Toyota Fitment Guide