Shop By
Shopping Options
Price

Free Shipping 2
Jaguar XJ6 on Dunlop SP Sport Tyres
---
Jaguar XJ6 1968–1986
---
The first XJ6 fitted ER/70 VR 15 Dunlop SP Sport Aquajet. Later Jaguar Saloons fitted 205/70 WR 15 PIRELLI CINTURATO P5. (ER/70VR15, is the same size as 205/70VR15).
Our recommended tyres to fit to a Jaguar XJ6 would be, either 205/70 WR 15 PIRELLI CINTURATO P5, 205/70 VR 15 Michelin XWX or 205/70 R 15 PIRELLI CINTURATO CN12. They are the highest specification and best handling tyres in the size.
The fact Jaguar Homologated the 205/70 WR 15 PIRELLI CINTURATO P5 with the 'J' means that is what they suggest as the best tyre for an XJ6.
The Michelin 15F innertube will best fit the tyres mentioned above.
Our period Innertube Guides inform which models were released on tubeless or tube-type wheels. They suggest that the XJ6 transitioned from tube-type to tubeless wheels between 1974 and 1977.
The later XJ40 fitted either 225/65 WR 15 PIRELLI CINTURATO P5 or 220/65 VR 390 Avon CR39.
Tyres with a profile below 70% (e.g 225/65 WR 15 PIRELLI CINTURATO P5) are not sized for innertubes, and should not use them.
Recommended tyre pressure for a Jaguar XJ6 Saloon is 36psi front and rear, for more specific detail on individual models see the table below.
In 1978 Jaguar performed tests on the Pirelli P5 on an XJ.
---
XJ6 JAGUAR SOVEREIGN TYRES
---
Jaguar XJ6 Tyres Explained
The Jaguar XJ6 was equipped with ER/70 VR 15 Dunlop SP Sport Aquajet tyres as standard, also known as the Dunlop Aquajet. Though these tyres are still around they are sadly no longer made by Dunlop themselves. We would recommend the 205/70WR15 Pirelli P5, 205/70VR15 Michelin XWX or the PIRELLI 205/70VR15 CINTURATO™ CN12 as the best tyres for the Jaguar XJ6 and Sovereign saloon and coupe cars, these are the highest specification tyres in the size. They are actually manufactured in-house by Michelin and Pirelli and they are genuine period tyres, so will really suit the cars.
The later Series 3 XJ6 cars did fit a PIRELLI CINTURATO ™ P5 tyre, Pirelli are now making these tyres again in conjunction with Jaguar, who have homologated 205/70WR15 Pirelli P5 for the XJ6 and the 215/70WR15 P5 for the XJ12 tyres with the 'J' designation. This is great because the P5 was the tyre that Jaguar asked Pirelli to make back in 1977.
Jaguar XJ6 on Dunlop Aquajet Tyres - Understeer
Jaguar XJ6 Recommended Tyres

---

---

Other Options for Jaguar XJ6 Tyres

---
---
Hi!
I have a Jaguar XJ6 Series 1 1970 with original rims on, from your website I assume the ER/70R15 Dunlop SP Sport is the correct tyre - correct? My question is, do I need to use inner-tubes for this rim-tyre combination?
Many thanks in advance:)
Kind Regards, John
Hi John
Yes that is correct. The XJ6 did come fitted with Dunlop ER/70VR15 SP Sport.
If you have original wheels they do not need inner tubes or rim tapes. Tubes and rim tapes are needed for wire wheels.
The UK Police used the XJ6 Jaguar. They took off the Dunlop and fitted the XWX for improved handling. These are excellent tyres, and you can find other references in Jaguar books recommending them as a great upgrade if you can afford them. Back in the 70's the Dunlop was considerably cheaper, but now the prices are more in line and Michelin make exceptional quality tyres such as the 205/70 15 XWX.
The other good news is that PIRELLI are making 205/70VR15 tyres again which are also to quality tyres. PIRELLI are one of the worlds best manufacturers, and the price is excellent as you can see with this 205/70 15 Pirelli P5.​
Although the Dunlop was original equipment. However, I personally would fit either the 205/70VR15 Michelin XWX or 205/70VR15 PIRELLI CN12.
Regards
Dougal
Hi, Is there any possibility that PIRELLI, or someone, will come out with a 20570VR15 with a narrow whitewall? I have a 1975 XJ6C.
Regards, Chris
Hi Chris,
We can have a white wall built into the side wall of either the Michelin XWX or the Pirelli Cinturato ™ P5 this is not cheap at 130 per tyre, however it is the only way of having a top quality tyre with a white wall.
Regards,
Dougal
---
Jaguar XJ6 Tyre Pressure
| | ER/70VR15 Dunlop | 205/70VR15 Cinturato CN12 | 205/70VR15 Michelin XWX |
| --- | --- | --- | --- |
| Series 1 | 29psi Front - 34psi Rear | 30psi Front - 36psi Rear | 31psi Front - 36psi Rear |
| Series 2 | 33psi Front - 36psi Rear | 33psi Front - 36psi Rear | 33psi Front - 36psi Rear |
| Series 3 | 36psi Front - 36psi Rear | 33psi Front - 36psi Rear | 36psi Front - 36psi Rear |
---
XJ6 Jaguar History
The classic Jaguar XJ6, which used 2.8 Litre and 4.2 Litre straight six-cylinder variants of Jaguar's legendary classic XK engine, replaced the majority of Jaguar's classic saloons, which had expanded to four different lines by the 1960s. Aside from the engines, the other major component leftover from earlier models was the broadest version of Jaguar's IRS unit from the Mark 10 vehicle.
The Daimler Sovereign was a premium version offered under the Daimler brand, carrying on the moniker from the Daimler version of the classic Jaguar 420.
The "XJ" moniker was derived from the car's secret name during development, which stood for Experimental Jaguar. The vehicle was unveiled in September 1968. Power steering and leather upholstery were standard on the 2.8 L 'De Luxe' and 4.2 L versions, with air conditioning available as an option on the latter. In October 1969, Daimler versions were introduced in a series of television advertisements starring Sir William; he referred to the automobile as "the best Jaguar ever" in several locations. The availability of two petrol tanks, one on each side of the boot and filled via two individually lockable fuel caps, one on the top of each wing above the rear tyre arches, was a unique feature inherited from the Jaguar Mark 10.
In March 1970, it was announced that the 4.2 litres engined XJ6's Borg-Warner Model 8 automatic transmission would be replaced with a Borg-Warner Model 12 unit. The new gearbox now had three different forward positions accessed via the selector lever, which effectively enabled performance-oriented drivers to hold lower ratios at higher revs in order to achieve better acceleration. The option of a long-wheelbase variant, which provided a minor improvement in legroom for rear passengers, became available in 1972.
---
Jaguar XJ6 Borrani Wire Wheels
Borrani wheels are available for your Jaguar XJ6. As agents for the iconic Ruote Borrani Milano company we are able to supply all wheels from their extensive range.
If your Borrani wheels require rebuilding then please contact us at [email protected]
Wire wheels made by Ruote Borrani Milano are, without doubt, the best wire wheels available. Borrani wheels utilise aluminium rims, steel spokes and steel wheel centres.
Click the link for Jaguar XJ6 Borrani wheels.
Wheels made by Borrani are available in the following styles:
Painted silver finish, as per the racing wheels of the period
Polished and chrome finish, highly polished rim, chrome spokes & wheel centre
Painted finish with polished outer edge
---
Innertube Guides
---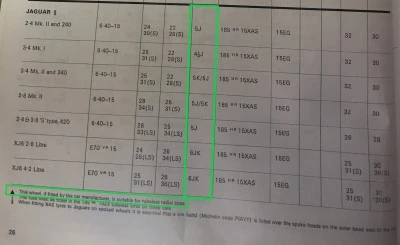 1972 Michelin Fitment Guide
1974 Michelin Fitment Guide
1977 Michelin Jaguar Fitment Guide
1979 Michelin Fitment Guide
1983 Dunlop Fitment Guide