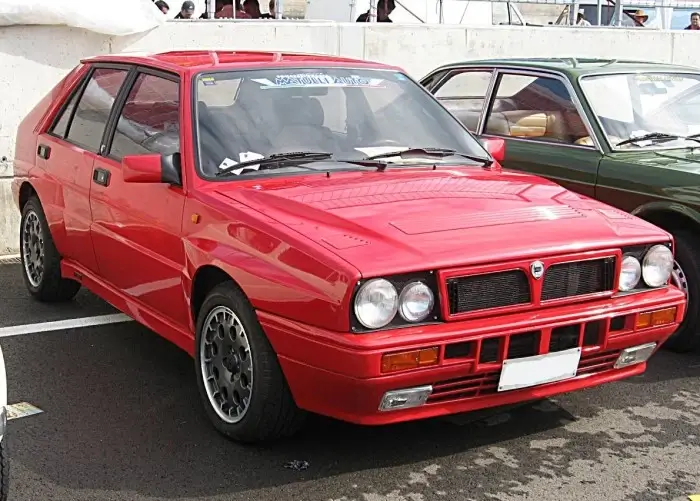 Lancia Delta Integrale 16V
---
Lancia Delta 1979–1999
---
The first Lancia Delta 1300 and Lancia Delta 1500 fitted either 165/70R13 or 165/65R14.
The Lancia Delta 1600GT and Delta 1600 GTi fitted 165/65R14 with 31psi front and rear.
The Lancia Delta HF Turbo fitted 165/65R14 with 29psi front and rear.
From 1986 The Lancia Delta HF 4WD we suggest 185/60 VR 14 Michelin Pilot Exalto PE2 with 28psi front and rear.
For the series 4 Lancia Delta we suggest 205/55YR16 Pirelli P7 at 28psi front and 36psi rear.
---
Lancia Delta Integrale Tyres
---
From 1988 For the 8 valve Lancia Delta Integrale HF 4WD we have 195/55 VR 15 Michelin Pilot Exalto with 32 psi front and rear.
In 1989 Lancia developed the 16v Delta Integrale EVO1. We would suggest 205/50 VR 15 Pirelli P7 at 32psi front and rear.
From 1993 the Lancia Delta 2.0 HF Integrale 16v EVO2 fitted 205/45R16 tyres with 36psi front and rear.
Lancia Delta Recommended Tyres

---

---

Other Options for Lancia Delta Tyres

---
---
History of the Lancia Delta
The Lancia Delta was introduced to the public at the Frankfurt Motor Show in September 1979. At the debut, three versions were available: the Delta 1300 four-speed, which had a 1,301 cc engine and simpler equipment, the Delta 1300 five-speed, which had additional features including an overdrive fifth gear for cruising, and the Delta 1500, which had a 1,498 cc engine with a five-speed transmission. The Delta received a strong reaction from the Italian and German press during its Frankfurt debut; in December, it was named European Car of the Year for 1980 by a jury of 53 automotive writers from 16 European nations.
Giorgetto Giugiaro developed the first Delta, a five-door hatchback that was introduced in 1979. Between 1980 and 1982, Saab Automobile offered it as the "Saab-Lancia 600" in Sweden, Denmark, and Norway to replace the discontinued 96 model. The Delta was named European Car of the Year in 1980. During the late 1980s and early 1990s, the first generation Delta dominated the World Rally Championship. The Group A homologation standards required the sale of road-going versions of these race vehicles, the Lancia Delta HF 4WD and HF Integrale. There were 44,296 Integrales made in all.