Shop By
Shopping Options
Price

Free Shipping 2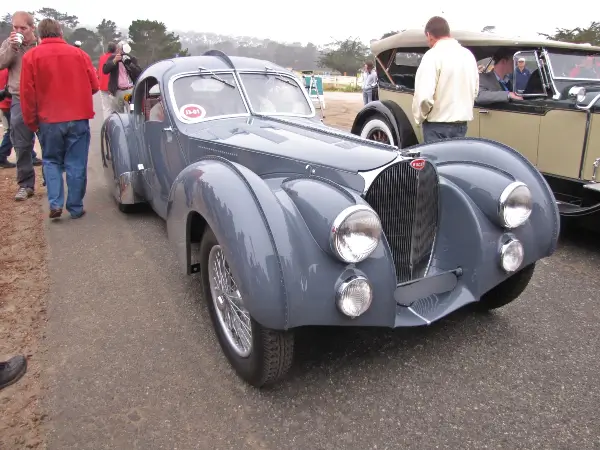 Bugatti Type 57 Atlantic
---
Bugatti Type 57 1934–1940
---
Bugatti Type 57 Recommended Tyres

---

---

Other Options for Bugatti Type 57 Tyres

---
---
History of the Bugatti Type 57
Jean Bugatti, son of the founder Ettore, built the Bugatti Type 57 and its variants (including the legendary Atlantic and Atalante). 710 Type 57s were produced between 1934 and 1940. Unlike the Type 49 and earlier models, the Type 57s used a 3257cc twin-cam engine based on the Type 49 but it was modified by Jean Bugatti. The Type 50 and 51 engines used bevel gears at the front of the engine to transmit power from the crankshaft, but the Type 57 used a spur gear train at the rear of the engine, with fibre sprockets on the camshafts to achieve less operation. noise.
The Type 57 was available in two basic configurations: the standard Type 57 and the lowered Type 57S/SC. The Type 57 chassis and engine were resurrected as the Bugatti Type 101 in 1951. On February 7, 2009, a rediscovered Type 57 sold at auction for 3.4 million euros at a motor show of the automobile in Paris.
---
Borrani Wire Wheels
Borrani rims are available for your Bugatti Type 57. As agents of the iconic Ruote Borrani Milano company, we are able to supply any rim from their extensive range.
If your Borrani wheels require rebuilding, please contact us at [email protected]
The spoked wheels made by Ruote Borrani Milano are, without a doubt, the best spoked wheels available. Borrani wheels use aluminium rims, steel spokes and steel wheel centres.
Click the link for Bugatti Type 57 Borrani rims.
Wheels made by Borrani are available in the following styles:
Silver painted finish, like the racing wheels of the time
Polished & Chrome Finish, High Polished Rim, Chrome Spokes & wheel center
Painted finish with polished outer edge