Shop By
Shopping Options
Price

Free Shipping 2
---
Pirelli CN36
---
The CN36 PIRELLI CINTURATO ™ was introduced in 1968 as PIRELLI's 70% profile, high performance range of tyres and is well known for it's fitment to Porsche 911 and Ford Escort Mexico.
PIRELLI CINTURATO ™ CN36 Tyres
PIRELLI's CN36 is the perfect low profile tyre to be fitted as a period upgrade to a full profile tyre without spoiling the handling of the light weight rear wheel drive sports cars of the 60's & 70's. The Cinturato's rounded shoulders have been developed to run in conjunction with the car technology of the day. So cars like MGB, Alfa Romeo Spider, Giulia & Alfetta that originally ran on a 165HR14 full profile tyre might want to increase their foot print by fitting the 185/70VR14 CN36 CINTURATO ™.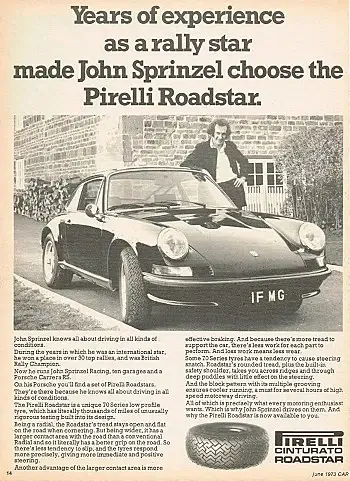 Classic Tyre Test