Shop By
Shopping Options
Price

Free Shipping 2
1972 Ford Escort Mark I XL 4-Door Sedan
---
Ford Escort 1968–2002
---
Longstone Tyres can happily provide excellent tyres for the whole Escort range including the Ford Escort MK I, Ford Escort MK II, Ford Escort MK I Mexico, GT & RS2000.
Longstone Tyres recommends fitting the following tyres to your Ford Escort:
Ford Escort RS2000 With PIRELLI CN36 Tyres
---
Ford Escort MKII
1981 Ford Escort RS
Ford Escort Recommended Tyres

---

---

Other Options for Ford Escort Tyres

---
---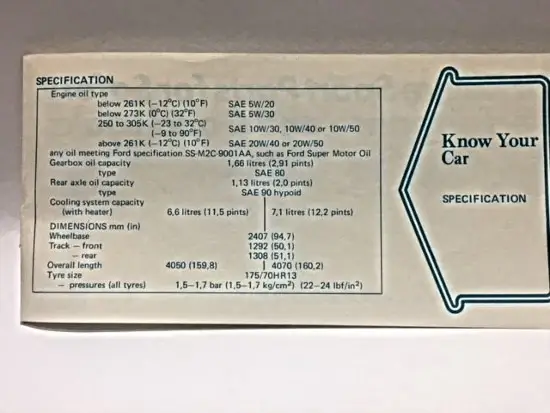 Independent Tyre Test - The Results
In the world of modern tyres it is commonplace to come across a tyre test. However in the world of classic tyres, the investment never seems to be there to do a proper modern tyre test. However, a German magazine in July 2016 conducted this modern tyre test using classic tyres. This classic tyre test has been translated from German to English. What is remarkable in this tyre test is quite how well the PIRELLI CINTURATO ™; CN36 classic tyre performed in the table at the end. The scores in this table are not scored in relation to the other tyres in the test, so when a score of 1 is recorded, then that is a perfect score for a classic tyre or a modern tyre. It is wonderful to see that these classic PIRELLI CINTURATO ™; CN36 tyres can give such exemplary results.
---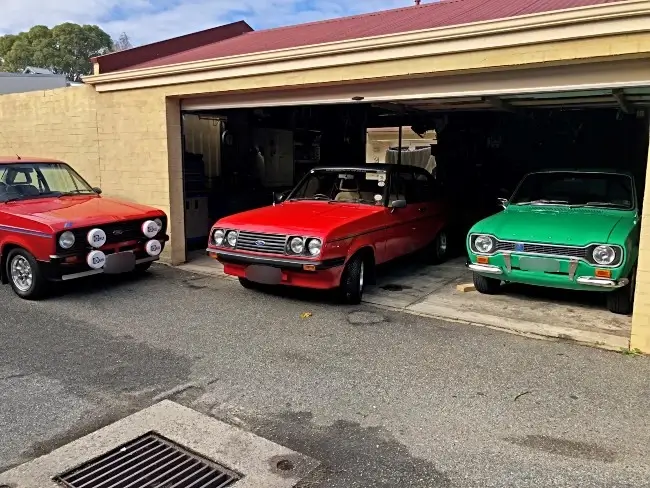 History of the Ford Escort
Built as a replacement to the Anglia in 1967 across factories in Germany and Britain, the Mark One Escort would go on to be one of Ford's most popular cars outside the USA. There would later be versions available for rallying where it made a name for itself, in particular winning the 1970 London to Mexico World Cup Rally being driven by Hannu Mikkola. This would lead to the creation for the Ford Mexico in honour of this achievement; a special edition 1.6 L road version of the rally car. The Mark Two Escort would take over in 1975, where it would also enjoy a successful rally career as well as popularity as a road car with L, GL, Sport, RS Mexico, RS2000 and Ghia versions all being produced.
---
---
Ford Escort Tyre Pressures
---
Dunlop Ford Escort Tyre Pressure 1968 - 1978
Ford Escort Tyre Pressure Dunlop 1979 - 1983
Michelin Ford Escort Tyres Pressure 1969 - 1984
Michelin Ford Escort Tyre Pressure 1986 - 1996 - Page 1
Michelin Ford Escort Tyre Pressure 1986 - 1996 - Page 2
Michelin MK3 Escort Tyre Pressures
---
Ford Escort FAQ
Q: What tyres did a Dog Bone Escort fit?
A: The mk1 Escort, also known as the Dog Bone Escort because of the shape of its radiator grille fitted 12" wheels, with 155 R12 tyres. PIRELLI CINTURATO radial tyres were offered for these cars. Some of these very early cars may also have fitted 5.50-12 crossply tyres. The more sporting Dog Bone Escorts came fitted with 175/70R13 PIRELLI CINTURATO CN36.
Q: What tyres did the Ford Escort Mexico fit?
A: Early on the Ford Escort started offering PIRELLI CINTURATO radial tyres, and the Escort Mexico fitted 175/70VR13 PIRELLI CINTURATO CN36.
Q: What tyre size did the MK3 Escort fit?
A: Most of the MK3 For Escort fitted 185/60R14. However top of the range cars sporting models like the RS2000 16V and the RS2000 4X4 fitted 15" wheels with 195/50R15 Pilot Exalto tyres.
---
Innertube Guides
---
Please note - A black triangle next to the innertube size indicates that the wheel; if made by the manufacturer, is a tubeless wheel, suitable to be run without innertubes. If no black triangle is present, that means the wheels are tube-type and require innertubes to function.
1972 Michelin Ford Fitment Guide Pg.1
1974 Michelin Ford Pg.1
1977 Michelin Ford Pg.1
1977 Michelin Ford Pg.2
1978 Michelin Ford Pg.2
1979 Michelin Ford Pg.1
1979 Michelin Ford Pg.2
1980 Michelin Ford Pg.2
1982 Michelin Ford Pg.2
1984-85 Michelin Ford Pg.2
1984-85 Michelin Ford Pg.3