Shop By
Shopping Options
Price

Free Shipping 2
Lancia Fulvia with some new Michelin XAS Tyres at Longstone
---
Lancia Fulvia Tyres Explained
---
Lancia Fulvia 1963–1976
---
There are several different models that needed different tyre fitments within the Lancia Fulvia range. Here are Longstone Tyres recommendations as to what tyre we feel is best for each model across the three series of Fulvia...
---
Series 1 (1963-1969) Lancia Fulvia Tyres
Series 2 (1969 - 1972) Lancia Fulvia Tyres
Fulvia 1.3 Coupe 165 HR 14 Michelin XAS.
Fulvia 1.3 Sport 165 HR 14 Michelin XAS.
Fulvia 1.6 Sport 165 HR 14 Michelin XAS or 185/70 VR 13 PIRELLI CINTURATO CN36.
Fulvia 1600HF 175HR14 Michelin XAS or 185/70 VR 14 PIRELLI CINTURATO ™ CN36.
Series 3 (1972 - 1976) Lancia Fulvia Tyres
Our period Fitment Guides suggest that some Fulvia Models were released on tube-type wheels, but some were released on tubeless wheels. See below to find your model and year, or have a look at our handy Innertube Page for more information.
For information on Lancia Fulvia tyre pressures, see our dedicated Lancia Fulvia Tyre Pressure page.
Lancia Fulvia Recommended Tyres

---

---

Other Options for Lancia Fulvia Tyres

---
---
History of the Lancia Fulvia
---
The Lancia Fulvia is an automobile produced by Lancia between 1963 and 1976. The Berlina 4-door saloon, 2-door Coupé, and Sport, an alternative fastback coupé developed and produced by Zagato on the Coupé layout, were unveiled at the Geneva Motor Show in 1963 and manufactured in three configurations: Berlina 4-door saloon, 2-door Coupé, and Sport. Fulvias are recognised for their achievements in motorsport history, most notably their victory in the 1972 International Rally Championship. With a diameter of 72 mm and a stroke of 67 mm, the displacement began at 1091 cc. It produced 57 horsepower and featured a single carburettor. Soon after, a 9.0:1 compression ratio and two Solex carburettors boosted output to 70 horsepower.
---
Lancia Fulvia with some new Michelin XAS Tyres at Longstone Rear
Lancia Fulvia tyre and pressure suggestions
---
---
Borrani Wire Wheels
Borrani wheels are available for your Lancia Fulvia . As agents for the iconic Ruote Borrani Milano company we are able to supply all wheels from their extensive range.
If your Borrani wheels require rebuilding then please contact us at [email protected]
Wire wheels made by Ruote Borrani Milano are, without doubt, the best wire wheels available. Borrani wheels utilise aluminium rims, steel spokes and steel wheel centres.
Click the link for Lancia Fulvia Borrani wheels.
---
Innertube Guides
---
1972 Pirelli Lancia Fitment Guide
1974 Michelin Lancia Fitment Guide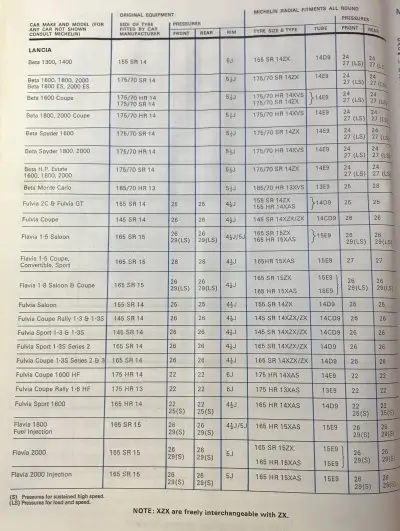 1977 Michelin Lancia Fitment Guide Pg1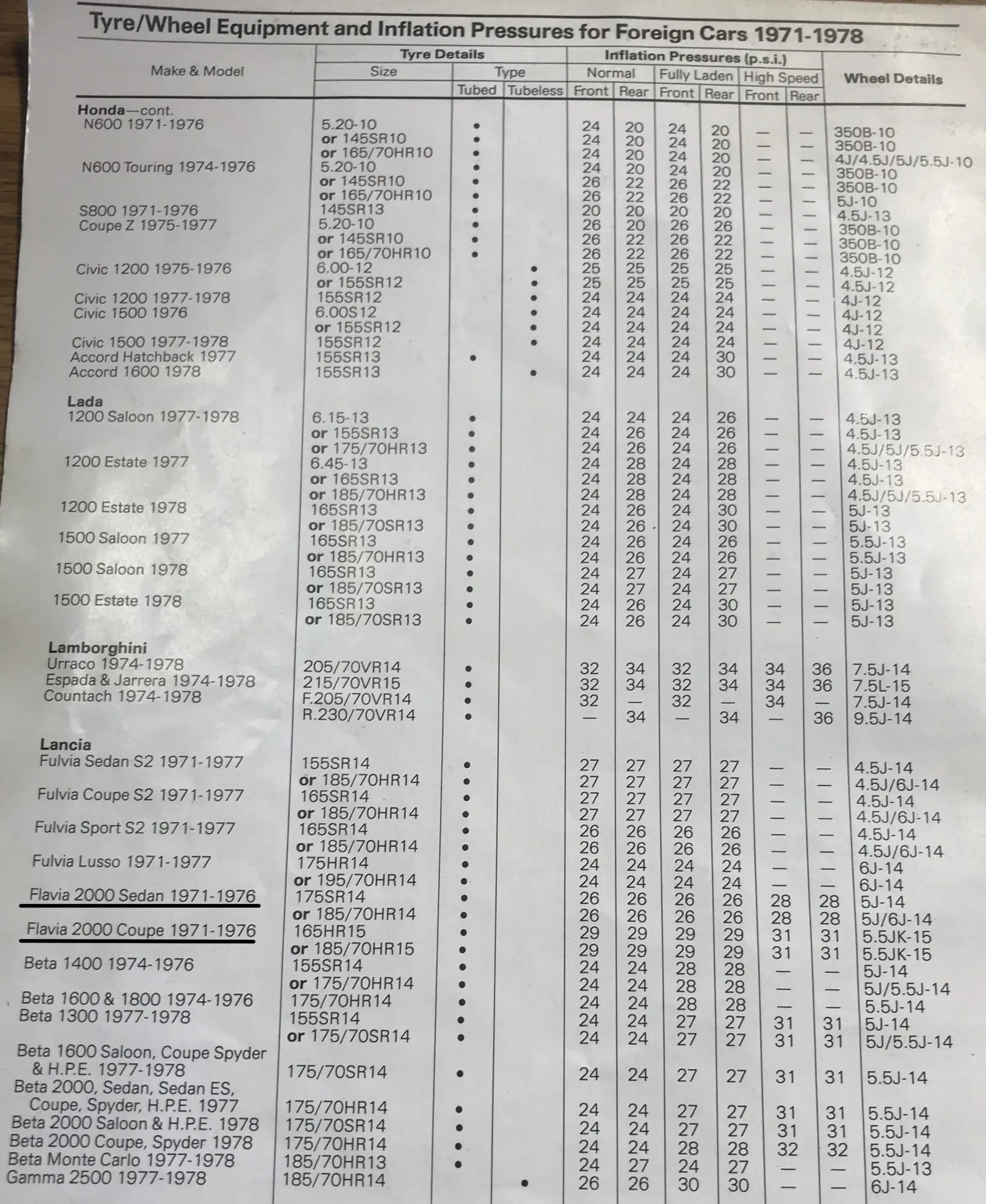 1978 Dunlop Lancia Fitment Guide
1979 Michelin Lancia Fitment Guide
1980 Pirelli Lancia Fitment Guide Pg1
1980 Pirelli Lancia Fitment Guide Pg2