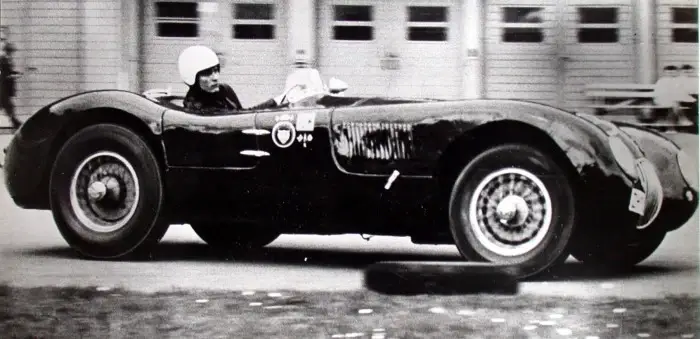 Jaguar C Type XKC
---
Jaguar C Type 1951–1953
---
The Jaguar C-Type originally fitted either 600 - 16 Tyres on the front and either 650 - 16 Tyres, or 700 - 16 Tyres on the rear.
At Longstone we believe that the very best crossply tyre for the Jaguar C-Type is the 6.00-16 PIRELLI STELLA BIANCA. We hope that in the near future, we have a 650-16 PIRELLI STELLA BIANCA for the rear of the tyre.
The best tyre for the Jaguar C-Type is the 185 VR 16 PIRELLI CINTURATO CA67.
It is worth noting that a lot of privateer racing was done on the Pirelli Cinturato tyres in period.
The ideal innertube for all the tyres mentioned above is the Michelin 16F innertube. The C-Type has tube-type wheels, so innertubes are a requirement.
If you are after a more appropriate track tyre, we recommend the Dunlop Racing Tyres.
Jaguar C-Type Recommended Tyres

---

---

Other Options for Jaguar C-Type Tyres

---
---
History of the Jaguar C-Type
C Type Jaguar
The Jaguar C-Type (officially known as the Jaguar XK120-C) is a racing sports automobile manufactured by Jaguar and marketed between 1951 and 1953. The letter "C" stands for "competition." The automobile merged the running gear of the current, road-proven XK120 with a lightweight tubular frame built by Jaguar Chief Engineer William Heynes and an aerodynamic aluminium body developed collaboratively by William Heynes, R J (Bob) Knight, and subsequently Malcolm Sayer. A total of 53 C-Types were produced, with 43 of them being sold to private owners, mostly in the United States.