Shop By
Shopping Options
Price

Free Shipping 2
Ford Model A
---
Model A Ford Tyres
---
---
Model A Ford Tyres Explained
---
When Dougal buys parts for Model A's he tends to get them from http://www.oneillvintageford.co.uk. Dave O'Neil is very knowledgeable and the service you get, couldn't be better.
Ford Model A Recommended Tyres

---

---

Other Options for Ford Model A Tyres

---
---
---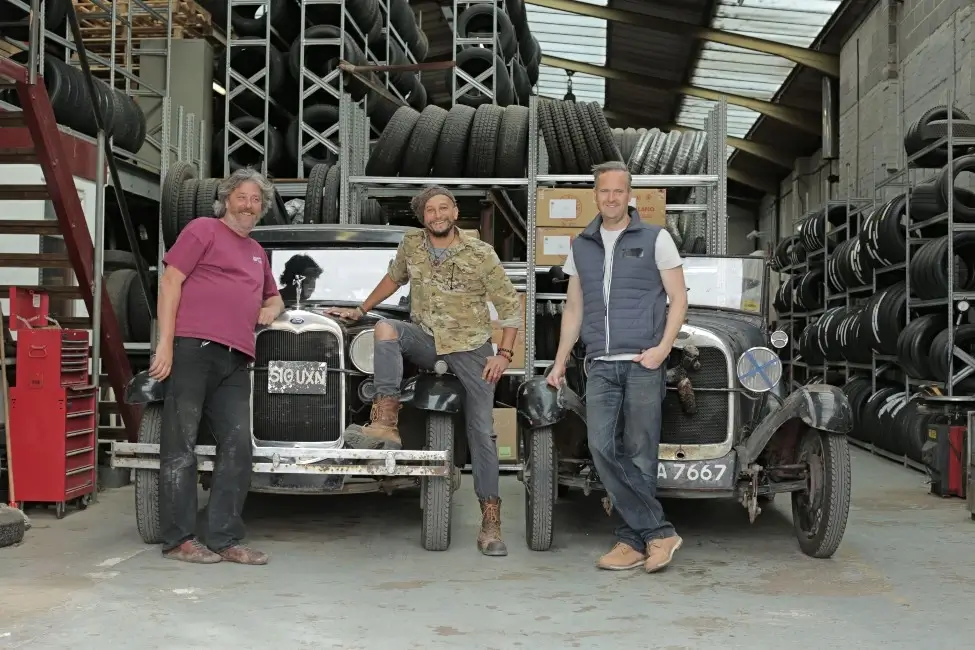 History of the Ford Model A
The replacement for the ubiquitous Ford Model T, the vintage Model A Ford went on sale in December. A much more complex car than its predecessor, the Ford Model A was also more powerful with its 3.3 litre four cylinder sidevalve engine producing a whole 40BHP, which was double the power of the Ford Model T. This gave the Model A Ford a top speed of 65mph (sometimes). A three speed sliding gear transmission replaced the Ford Model T's planetary gears, there was also in amongst all the excitement a coil and battery instead of magneto ignition, and also, which seems almost unbelievable, a brake for all four wire wheels.
The first Model A Ford was assembled on the 21st of October 1927 and the car's nationwide introduction followed on the 2nd of December in the same year. Nine different body styles were offered for 1928, and as production gathered pace, this increased to no fewer than 18 for 1929. Model A Ford production for the 1928 calendar year was a staggering 633,594 cars. The Model T Ford's ungainly styling was abandoned, and the eagerly awaited Model A Ford, with up to date looks, a wider choice of colours, and needless to say, competitive pricing helped ensure its success.
---
VSCC Trial Tyres
---
A weekend spent with the VSCC at one of their trails events, is among the best ways to spend a winter weekend with your clothes on. The VSCC eligibility rules say that if you want to run 1928 or 29 Model A as a standard car then you must stay with the 21" wheels so the 450X21 Goodyear Diamond, All-weather tyre gives you the knobbliest side walls and most aggressive tread. Unfortunately having these thinner 21" tyres, does give a slight disadvantage compared to the 475/500X19 tyres of the later cars, Michelin tyre is by far the best trailing tyre for the majority of vintage cars that might trial with the VSCC. So a 4.75/5.00X19 Michelin DR is the best tyre to trial a later Model a with the VSCC as standard.
Trials Tyres for a VSCC Special
A model A Ford is a nicer handling car, fitted with the 21" wheels, they are lighter and more fun to drive. The 19" wheels with the taller sidewall, do give a softer ride and the taller tyre absorbs bore bumps of the road. So if your car qualifies as a VSCC special, when trialling you should take advantage of this. So regardless of the year of your Model A the VSCC eligibility allows you to fit 19" wheels on a special Model A and you can also fit a bigger tyre section and a 525/600X19 Michelin DR will get you further up the majority of hills a V. S. C. C. trial might offer you. If you can fit them on your car a Michelin DR will be the best trialling tyre for any VSCC car.