Clincher Tires or Beaded Edge Tyres
Beaded edge tyres or clincher tires are unreliable technology, which is why they stopped using Clincher rims and Beaded edge tyres. Please bear in mind that in period beaded edge tyres (clincher tires) regularly punctured and came off the clincher wheel rim.
For example; the French 1908 Grand Prix which was run over 769.88 km, 478.38 miles, one of the reasons that Christian Lautenschlager won in his 140hp Mercedes which was using beaded edge tyres (or clincher tires) was because he only had 22 punctures.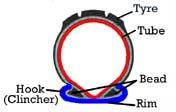 Beaded Edge Tyres Explained​
Prior to 1924, in the veteran and vintage period, the majority of European car manufacturers fitted clincher wheels for use with beaded edge vintage tyres (clincher tires). Some car manufactures such Ford continued to fit clincher tires (beaded edge tyres) up to the late 20's because they were cheaper and manufacturers like as Sunbeam and Bentley stayed with beaded edge tyres (clincher tires) because kept the steering nice and light.
Why the Edge of the Clincher Tyres are Beaded?
Beaded edge veteran and vintage tyres (clincher tires) have large circumferential ridges of hard rubber (beaded). These beads fit into the hook (clincher) of the clincher wheel rim.
Beaded Edge Vintage Tyre
Clincher Tires
The Term Clincher tire is the American term for beaded edge tyres. There is no difference between Beaded edge tyres and clincher tires. Beaded edge tyres need a minimum tyre pressure of 60psi to push the beads into the clincher of the rim and keep the clincher tire in place. The most common cause of a beaded edge vintage tyre failure is lack of pressure allowing the tyre to detach itself. Beaded edge tyres (clincher tyres) can only be used with a beaded edge or (clincher) wheel rim.
Removing Beaded Edge Tyres Tutorial
Fitting Beaded Edge Tyre Inner Tube
Fitting a Beaded Edge Tyre