Shop By
Shopping Options
Price

Free Shipping 2
MG TC of Bill Murray contesting the 1947 Australian Grand Prix
---
MG TC 1945–1950
---
Longstone's recommendation for the MG TC is the 4.50x19 Ensign B5.
The Ensign has a great carcass structure for wheels like those on the MG TB, it also has the period tread pattern that the original Dunlop had, which is the tyre that would likely have been fitted to the TA in the period.
Another great option would be the 4.00/4.50 x 19 Michelin D.R, which will also offer excellent performance.
TC wheels require innertubes. The Michelin 19MFR is the best fitting innertube for these tyres.
If you want to take a TC onto the track you would be best with a set of 4.50x19 3-Stud Ensign Racing, with a set of 450-500X19 Race innertubes.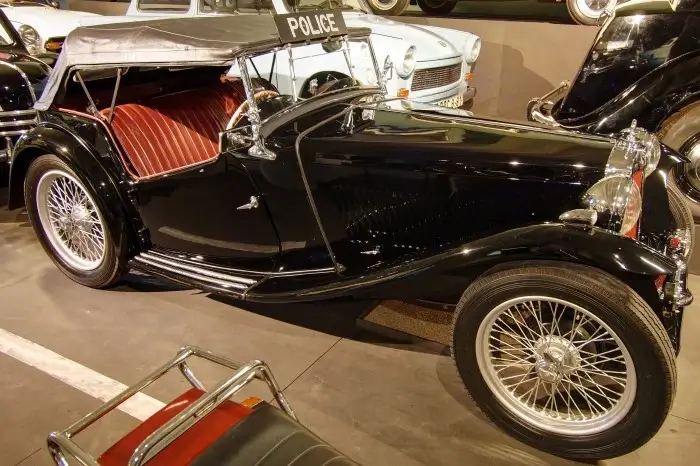 1947 MG TC Police Car
MG TC Recommended Tyres

---

---

Other Options for MG TC Tyres

---
MG TC on Dunlop Fort "90" Tyres
---
History of the MG TC
---
The TC Midget was the first post-war MG, arriving in 1945. It was quite similar to the pre-war TB, with the same 1,250 cc pushrod-OHV engine and a slightly higher compression ratio of 7.4:1, producing 54.5 horsepower at 5200 rpm. The creators made information available about numerous alternate tuning configurations for the TC, the XPAG engine was known for its capacity to operate well at different tunings. The TC engine was a slightly upgraded version of the XPAG engine, which had initially been introduced to MG in the TB. The inclusion of a hydraulically regulated timing chain tensioner resulted in a significant improvement.
All TCs were powered by a single 12-volt battery. All TCs were outfitted with 19-inch Dunlop wire wheels. The ignition distributor included an automatic mechanical timing advance. From September 1945 to November 1949, 10,001 TCs were built, more than any preceding MG type. In 1947, it cost £527 on the UK market.
---
Borrani Wire Wheels
---
Borrani wheels are available for your MG TC. As agents for the iconic Ruote Borrani Milano company, we are able to supply all wheels from their extensive range.
Wire wheels made by Ruote Borrani Milano are, without a doubt, the best wire wheels available. Borrani wheels utilise aluminium rims, steel spokes and steel wheel centres.
If your Borrani wheels require rebuilding, then please contact us at [email protected]
Click the link for MG TC Borrani wheels.
Wheels made by Borrani are available in the following styles:
Painted silver finish, as per the racing wheels of the period
Polished and chrome finish, highly polished rim, chrome spokes & wheel centre
Painted finish with polished outer edge