Shop By
Shopping Options
Price

Free Shipping 2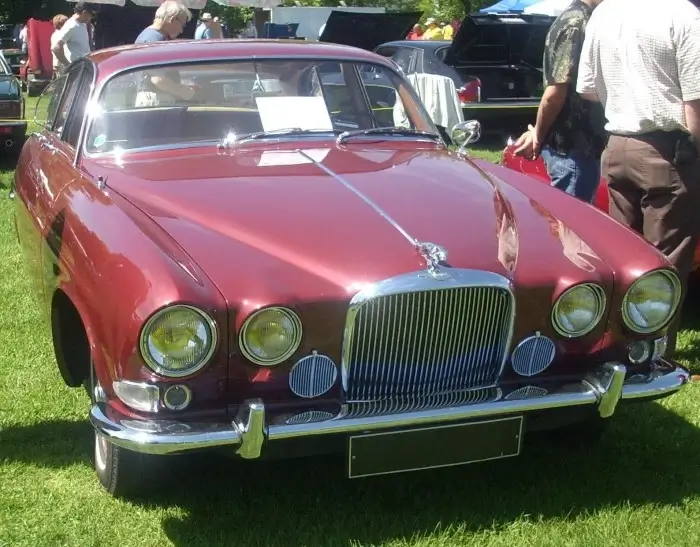 1963 Jaguar Mark X
---
Jaguar MK10 1961–1970
---
Jaguar MK10 Saloon both the 3.8 & 4.2 litre models fitted 7.50-14 Crossply tyres.
A MKX jaguar on modern roads is more suited the radial tyre, we would suggest the 205 WR 14 Michelin XWX.
It is important to note this is a full 80% profile tyre, not a 205/70VR14. That is far too small for this.
Some MK 10 Jaguars have been moved onto 15 wheels in which case 205/70 R 15 PIRELLI CINTURATO CN12 is ideal.
Our period fitment guides suggest that the MK10 was released on tube-type wheels, and therefore requires innertubes. Wire wheels also require innertubes.
The best fitting innertube for 205 R14 tyres are Michelin 14F innertubes.
For 205/70 R15 tyres the Michelin 15F is the ideal innertube.
Tyre pressures for MK X Jaguar saloons with radial tyres. 30psi front and rear.
Jaguar MK10 Tyres Explained
---
Jaguar 420 G Tyres
---
The Jaguar 420G came with radial tyres we suggest fitting 205 WR 14 Michelin XWX.
Some 420G cars might have been fitted with later 15" wheels in which case we would suggest 205/70 R 15 PIRELLI CINTURATO CN12.
The 420G fitted tube-type wheels throughout its production run, according to our period fitment guides. Wire wheels are also tube-type and require innertubes to function.
420 G tyre pressures - 30psi front and rear.
Jaguar MKX & 420G Recommended Tyres

---

---

Other Options for Jaguar MKX & 420G Tyres

---
---
History of the Jaguar MkX & 420G
Built between 1961-1970, the Jaguar MkX & 420G featured a 120 inch (3,000 mm) wheelbase and differed from other Jaguar saloons in having 14" wheels instead of the more common 15". They were also the first Jaguar saloon to feature independent rear suspension, whilst the front suspension used double wishbones with coil springs and telescopic dampers. The 420G also differed by the addition of a vertical central bar splitting the grille in two; side indicator repeaters on the front wings and a chrome strip along the wing and door panels as well as a more luscious interior with air conditioning as an option.
---
Borrani Wire Wheels
Borrani wheels are available for your Jaguar MK 10. As agents for the iconic Ruote Borrani Milano company we are able to supply all wheels from their extensive range.
If your Borrani wheels require rebuilding then please contact us at [email protected]
Wire wheels made by Ruote Borrani Milano are, without doubt, the best wire wheels available. Borrani wheels utilise aluminium rims, steel spokes and steel wheel centres.
Click the link for Jaguar MK 10 Borrani wheels.
Wheels made by Borrani are available in the following styles:
Painted silver finish, as per the racing wheels of the period
Polished and chrome finish, highly polished rim, chrome spokes & wheel centre
Painted finish with polished outer edge