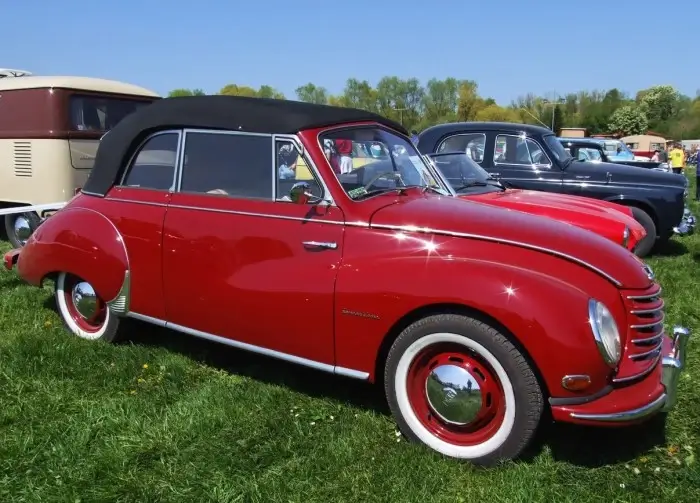 DKW Sonderklasse 3=6
---
DKW 3=6 1953–1959
---
DKW 3=6 Recommended Tyres

---

---

Other Options for DKW 3=6 Tyres

---
---
History of the DKW 3=6
---
1955-1959 DKW 3=6 Universal Type F94
Amid the '60s the Volkswagen Beetle was still a power player in the automobile market of both Germany and Europe and DKW sought to deepen its influence within the affordable vehicle market that Citroen and Volkswagen had a stronghold on. This was not DKW's first attempt in the market as the 3=6 was a direct successor to the DKW F89.
The DKW 3=6 had a few advantages over the Beetle, the biggest being interior space, especially in the 4 door models which featured a large extension to the wheelbase. The 3=6 was originally bodied as a 2-door saloon, but, later versions brought out a pillarless coupe version, first seen in 1953 and a Karmann-designed cabriolet model.
The 3=6 performed very well across Europe in touring car racing and rallying in 1954 and 1955. The success of the 3=6 led to the development of a sporty-bodied variant, named the DKW Monza after the famous Italian race track. In December 1956, the DKW Monza set 5 international records at the Monza Circuit, this feat was largely aided by the Monza's glass-fibre reinforced polyester body, designed to greatly reduce air resistance.