---
1952 DKW Meisterklasse
---
DKW History
---
DKW 1000 S De Luxe
DKW was a German automobile and motorbike manufacturer. DKW was one of four businesses that established Auto Union in 1932, and so is an ancestor of the contemporary Audi corporation. DKW automobiles were manufactured from 1928 through 1966, with the exception of the Second World War. DKWs were always powered by two-stroke engines, indicating the company's status as the world's largest motorcycle manufacturer by the end of the 1920s. The first DKW automobile, the modest and very rudimentary Typ P, was introduced on May 7, 1928, and the model has constructed at the company's Spandau (Berlin) facility until 1931, initially as a roadster and then as a handsome if somewhat basic sports car.
More noteworthy was a series of low-cost automobiles produced at Zwickau, 300 kilometres (185 miles) to the south, at a facility bought by the team's founder in 1928, when he became the main owner of Audi Werke AG.  Variants F1 through F8 (F for Front) were produced between 1931 and 1942, with descendant models appearing after the war's conclusion in 1945. They were Europe's first mass-produced front-wheel-drive automobiles, driven by transversely installed two-cylinder two-stroke engines. The displacement was 584 or 692 cc, with a claimed maximum power of 15 PS initially, then 18 or 20 hp starting in 1931.
DKW F89
Between 1929 and 1940, DKW built a less well-known but technically fascinating line of rear-wheel-drive automobiles with two-stroke V4 engines known as the Schwebeklasse and Sonderklasse. Engine capacity was 1,000 cc at first, then 1,100 cc afterwards. The engines had two additional cylinders for forced induction, giving them the appearance of V6 engines but lacking spark plugs on the front cylinders.
DKW built the first three-cylinder motor, with a capacity of 900 cc and a power output of 30 hp, in 1939. The automobile may reach 71 mph with a streamlined body. After WWII, it was produced as an Industrieverband Fahrzeugbau (IFA) F9 (after Wartburg) in Zwickau, East Germany, and then as the 3=6 or F91 by DKW in Düsseldorf.
Because Auto Union was situated in Saxony, in what was then the German Democratic Republic (East Germany), it required considerable time after the war to rebuild. In 1949, the firm was founded in West Germany as Auto Union GmbH, first as a spare-parts supplier but quickly expanding into the manufacturing of the RT 125 motorbike and a revolutionary delivery van known as the Schnellaster F800. Their initial product line was in Düsseldorf. The engine of this van was the same as the final F8 built before the war.
DKW Monza 12
Their first automobile was the F89, which used the body from a pre-war prototype F9 and the two-cylinder two-stroke motor from the penultimate F8. Production continued until it was superseded by the F91's successful three-cylinder engine. The F91 was produced from 1953 to 1955 before being superseded by the bigger F93 in 1956.
The F93 was manufactured until 1959 when it was succeeded by the Auto-Union 1000. Until 1963, these vehicles were powered by a 1,000 cc two-stroke engine with a choice of 44 horsepower or 50 hp S variants. During this changeover, production was relocated from Düsseldorf to Ingolstadt, where Audi continues to manufacture. From 1957, the automobiles could be equipped with a saxomat, an automated clutch, making them the only compact car with this technology at the time. Disc brakes were an option on the last models of the Auto-Union 1000S, which was an early development for this technology. From 1957 to 1964, a sporty 2+2 seater variant was offered as the Auto-Union 1000 SP, initially as a coupé and then as a convertible.
On a private initiative, the highly uncommon DKW Monza was brought into small-scale production in 1956, with a sports two-seater body of fibreglass on a conventional F93 frame. It was originally dubbed Solitude, but its ultimate name came from the long-distance speed records it set on Italy's Autodromo Nazionale Monza in November 1956.
In 1959, a more successful variety of automobiles was launched, the Junior/F12 series, which was based on a new idea from the late 1950s. Junior (basic model) from 1959 to 1961, Junior de Luxe from 1961 to 1963, F11 and F12 from 1963 to 1965, and F12 Roadster from 1964 to 1965 comprise the range. The Junior/F12 series was quite popular, and numerous vehicles were built.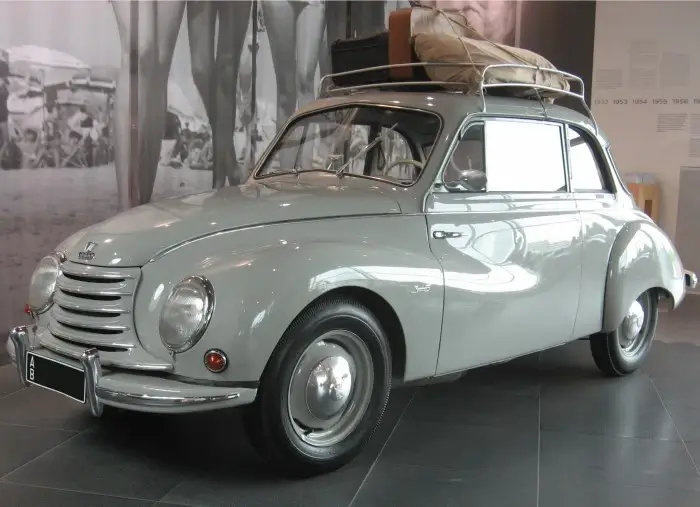 DKW F91
All of the postwar three-cylinder two-stroke automobiles had some racing promise and were the foundation for numerous rally triumphs in the 1950s and early 1960s. For numerous years throughout the 1950s, DKW was the most successful automobile brand in the European rally league.
DKW automobiles were manufactured in Brazil by the local business Vemag (Veculos e Máquinas Agrcolas S.A., "Vehicles and Agricultural Machinery Inc.") from 1956 to 1967. Scania-Vabis trucks were assembled by Vemag, but Scania Vabis became an independent firm in July 1960. The Candango off-roader (Munga), a utility vehicle, and a four-door sedan dubbed Vemaguet and Belcar were originally planned. The 900 cc F91 Universal was the first model constructed, although the Belcar and Vemaguet designations were added later.
The Brazilian F94 series was upgraded with visual revisions and grew increasingly distinct from the German and Argentine variants. Vemag lacked the funds to invest in new items and was forced to combine by the government. Volkswagen progressively took over Auto Union, a minority shareholder in Vemag, between 1964 and 1965, then purchased the remaining shares in 1967. After 109,343 DKW-Vemag cars were completed, VW rapidly began phasing down DKW-Vemag manufacturing and launched the Volkswagen 1600 sedan in the former Vemag facility.
From 1960 to 1969, DKW automobiles were manufactured in Argentina by IASF S.A. (Industria Automotriz Santa Fe Sociedad Anónima) in Sauce Viejo, Santa Fe. The Cupé Fissore was considered the most beautiful, with many notable owners. The Auto Union 1000 S Sedán (21,797 built till 1969) and the Auto Union 1000 Universal S are two further versions (6,396 made until 1969). as well as the Auto Union Combi/Pick-up. The final version of the Auto Union Combi/Pick-up (DKW F1000 L), introduced in 1969, lasted only a few months before being purchased by IME, who continued manufacture until 1979.