Shop By
Shopping Options
Price

Free Shipping 2
---
Rover P5B ex RAF staff car
Rover P5B Tyres
---
Rovers P5B car was upgraded in a few ways from the earlier P5; one of which being the introduction of the larger 670 - 15 tyre.
Rover tended to fit Avon cross ply tyres in those days, so if you want to fit Crossply today we would recommend the 670 H 15 Avon Turbospeed.
A Rover P5B on today's modern dual carriageways will be cruising for extended periods at far higher speeds than would have been possible in the '60s, so today P5B owners tend to want to fit a radial tyre on their Rover.
The best tyre for this purpose on a Rover P5B is the 185 VR 15 PIRELLI CINTURATO CA67, it is an excellent tyre and also period suitable as Rover also have a history of fitting the CINTURATO ™.
Longstone Tyres also do an excellent deal on buying the 185R15 PIRELLI CINTURATO ™ CA67 in sets of 4 or 5.
For these tyres the Michelin 15F is the correct innertube.
Our period Dunlop Fitment Guide suggests that some P5B cars were released on tubeless wheels. Innertubes are not required for these wheels. The fitment guide also states that some cars were released with tube-type wheels that require innertubes, for more information, see our Innertube Page.
---
Rover P5B Recommended Tyres

---

---

Other Options for Rover P5B Tyres

---
---
History of the Rover P5B
The P5's last generation debuted in September 1967. The automobile was badged as the "3.5 Litre" and was widely known as the "3.5 Litre". It was driven by the 3,528-cubic-centimetre Rover V8 engine, which was also used in the 3500. Buick, the engine's creator, provided the last letter in the "P5B" model designation. Rover did not have the funds to design a new engine, so they redeveloped the lightweight aluminium Buick engine, making it much stronger. While this increased some weight, the engine's light and compact attributes remained. The automated Borg-Warner Type-35 gearbox, hydrosteer variable-ratio power steering, and front Lucas fog lights were now standard.
A 160 metric horsepower output was reported, as well as increased torque. When it was first debuted in 1967, the Buick-designed V8 generated 158 horsepower at 5,200 rpm. The engine's increased power, combined with its lighter weight, resulted in improved performance and fuel economy.
Except for prominent "3.5 Litre" badging, a pair of fog lights placed below the headlights, forming a dramatic four-light array, and the addition of chrome Rostyle wheels with black painted inserts, the appearance remained virtually unaltered. Until the end of manufacturing, the P5B was available in both 4-door coupé and saloon body styles. Production stopped in 1973, with a total of 9,099 coupés and 11,501 saloons made.
The 3½ Litre saloon variation was the choice of high-ranking government ministers, and it was used as Prime Ministerial transport by Harold Wilson, James Callaghan, and Margaret Thatcher. As a testimony to its fitness, the British government acquired the last batch of P5Bs to roll off the Rover line in June 1973 and stored them in storage, to be released for government use as needed. As a result, registered reasonably new-looking P5s were common sights in Westminster for more than a decade after manufacture ceased.
---
Innertube Guides
---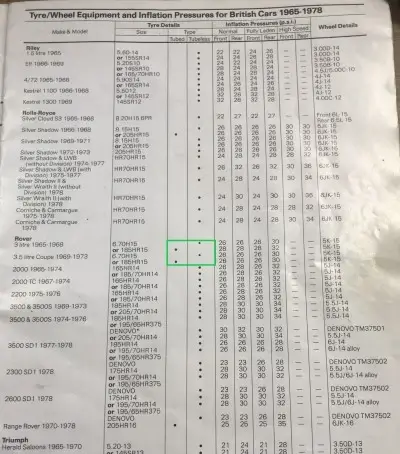 1965-78 Dunlop Rover Fitment Guide