Austin Vanden Plas Princess
Austin Vanden Plas Princess 4 Litre R
---
Austin Vanden Plas Princess Tyres
---
For the ideal Austin Vanden Plas Princess tyre the 7.25 R 13 Michelin X is our top pick of radial tyre to fit.
This tyre is also available in a whitewall, with the 7.25 R13 Michelin X Whitewall, allowing whitewall fans to have the aesthetic they desire without compromising on tyre performance.
Our period Fitment and Innertube Guides state that the 1965-68 Princess was released on tubeless wheels. Providing you have tubeless wheels and tubeless tyres, innertubes are not mandatory.
We do not have period fitment data to determine wheel type for the earlier Vanden Plas Princess models, however, our recommended 7.25 R 13 Michelin X tyre is tube-type, making innertubes compulsory regardless of your wheel type.
If you need or desire innertubes, Longstone offers the Michelin 13F innertube for tyres in this size.
Austin Vanden Plas Princess Recommended Tyres

---

---

Other Options for Austin Vanden Plas Princess Tyres

---
---
History of the Austin Vanden Plas Princess
Vanden Plas was a coachbuilder that produced bodies for speciality and high-end automobile manufacturers. Later, the moniker itself became a top-end luxury model designation for automobiles from various British Leyland and Rover Group subsidiaries.
1945, post-war When Austin approached Vanden Plas with the idea of marketing a chauffeur-driven version of its large 4-litre A110 Sheerline luxury car, Vanden Plas was looking for ways to restart its old business. In 1946, Vanden Plas became an Austin Motor Company subsidiary, producing Austin's A120 Princess model on the Austin Sheerline chassis.
From 1958, this included chassis assembly, and the Austin (now BMC) board recognised Vanden Plas as a motor manufacturing company in its own right, dropping the Austin title so the Princess could be sold by Nuffield dealers. The Princess was renamed the Vanden Plas Princess in 1960.
---
Innertube Guides
---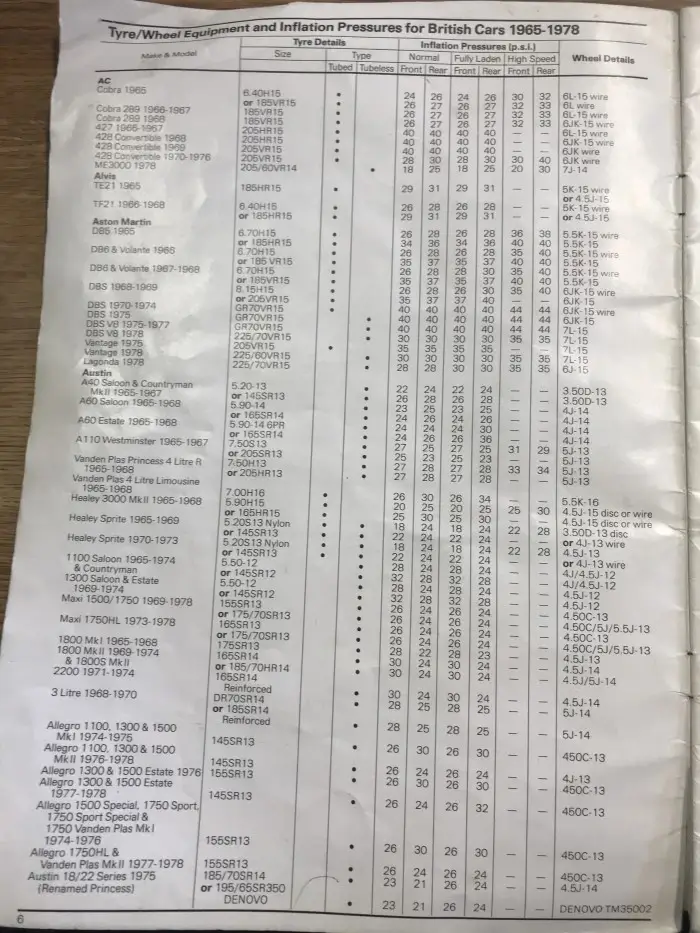 Dunlop 1965-1978 Austin Fitment Guide