Alvis TD21 Cabriolet
---
Alvis TD21 Tyres
---
The Alvis TD21 originally came equipped with crossply 600 - 15 Tyres. The only tyres in this size are Dunlop racing tyres that are not road legal.
In 1960 they changed to 640 - 15 Tyres of which the 640 H 15 Avon Super Safety is the best crossply.
Alternatively we recommend a 185 VR 15 PIRELLI CINTURATO CA67 as a fitting radial alternative.
If your Alvis TD21 has heavy steering, then the 180 HR 15 Michelin XAS is an extra thin tall tyre.
The correct innertube for these tyres is the Michelin 15F.
Innertubes are optional on radial tyres but are a requirement for tube-type wheels and wire wheels. The TD21 was released with standard tube-type wheels or wire wheels, making tubes necessary unless different wheels have been fitted.
See below for Borrani wire wheel options for your TD21!
---
Here are some comments from the "Alvis Owners Club" Facebook page when discussing fitting the 185 VR 15 PIRELLI CINTURATO CA67 onto the Alvis TD21.
---
"I've got these on my 1963 TD21, they're fantastic, a huge improvement on the Vredesteins I had before."
"not sure this photo shows the tyres off well, but they are the Cinturato. I use 31 psi front, 33 psi rear (a little less than the original Alvis pressure recommendations)."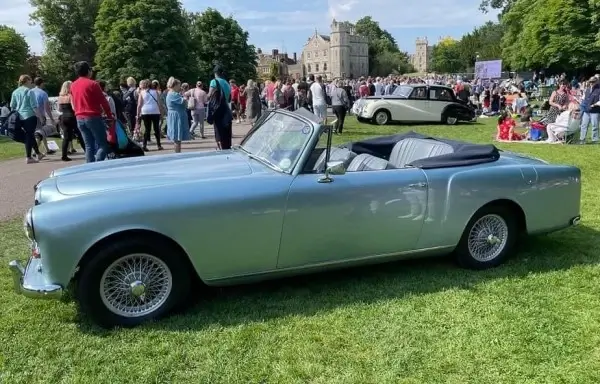 1963 Alvis TD21 on PIRELLI CINTURATO CA67 Tyres
Alvis TD21 Recommended Tyres

---

---

Other Options for Alvis TD21 Tyres

---
---
History of the Alvis TD21
Between the end of 1958 and October 1963, Alvis automobiles manufactured the Alvis Three Litre TD21, a British sports saloon or coupé. It was a redesigned version of the TC 108G, with the body manufactured by Park Ward, who were better able to deliver them in the necessary number, quality, and price that Alvis needed. A drophead coupé was also added to the lineup.
The 2993 cc engine was upgraded once more, now generating 115 horsepower. This improvement was made by enlarging the cylinder head and increasing the compression ratio from 8.0:1 to 8.5:1. Austin-Healey introduced a new four-speed gearbox, as well as a three-speed automatic transmission from Borg-Warner (optional). From late 1960 to 1962, the manual gearbox had overdrive. Wire wheels were also available as an optional extra. The suspension was identical to the TC 21, with coil springs at the front and leaf springs at the back, but the track was extended by 1 inch to 55.5 inches and a front anti-roll bar was added. From 1959, the front drum brakes were replaced with discs, but drums were still utilised for rear braking.
---
Borrani Wire Wheels
Borrani wheels are available for your Alvis TD21. As agents for the iconic Ruote Borrani Milano company we are able to supply all wheels from their extensive range.
If your Borrani wheels require rebuilding then please contact us at [email protected]
Wire wheels made by Ruote Borrani Milano are, without doubt, the best wire wheels available. Borrani wheels utilise aluminium rims, steel spokes and steel wheel centres.
Click the link for Alvis TD21 Borrani wheels.