Shop By
Shopping Options
Price

Free Shipping 2
1957 Vauxhall Victor
---
Vauxhall Victor 1957–1978
---
Here is what Longstone Tyres recommends based on your Vauxhall Victor tyre needs:
1965 Vauxhall Victor FC 101 Estate
Vauxhall Victor Recommended Tyres

---

---

Other Options for Vauxhall Victor Tyres

---
---
Vauxhall Victor F Series
---
History of the Vauxhall Victor
Built between 1957-1978, the Vauxhall Victor was a large family car that would later be known as the VX series, introduced to replace the ageing Vauxhall Wyvern. In 1968 the Vauxhall Ventora would be launched which was based on a Vauxhall Victor FD body but this time with a 3.3-litre engine under the bonnet. There would be several variations of the Vauxhall Victor; with the F Series Victor (1957-1960), FB Series Victor & VX4/90 (1961-1964), FC Series Victor & VX4/90 (1964-1967), FD Series Victor, VX4/90 & Ventora (1967-1972), FE Series Victor, VX4/90, Ventora, VX1800 & VX2300 (1972-1976) & VX Series (1976-1978).
---
1974 Vauxhall Victor FE Sedan
---
Independent Tyre Test - The Results
In the world of modern tyres it is commonplace to come across a tyre test. Sadly in the world of classic tyres, the investment never seems to be there to do a proper modern tyre test. However, a German magazine in July 2016 conducted this modern tyre test using classic tyres. This classic tyre test has been translated from German to English. What is remarkable in this tyre test is quite how well the PIRELLI CINTURATO ™ CN36 classic tyre performed in the table at the end. The scores in this table are not scored in relation to the other tyres in the test, so when a score of 1 is recorded, then that is a perfect score for a classic tyre or a modern tyre. It is wonderful to see that these classic PIRELLI CINTURATO ™ CN36 tyres can give such exemplary results.
---
Innertube Guides
---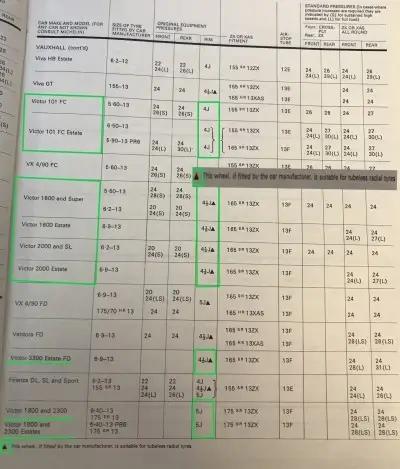 1972 Michelin Vauxhall Fitment Guide
1974 Michelin Vauxhall Fitment Guide
1977 Michelin Vauxhall Fitment Guide
1977 Michelin Vauxhall Fitment Guide Pg2
1980 Michelin Vauxhall Fitment Guide