Lancia Monte Carlo Pininfarina
---
Lancia Montecarlo 1975–1978 & 1980–1981
---
Our period Fitment Guides suggest that some Montecarlo Models were released on tube-type wheels, but were later released on tubeless wheels. See below to find your model and year, or have a look at our handy Innertube Page for more information.
Lancia MonteCarlo Recommended Tyres

---

---

Other Options for Lancia MonteCarlo Tyres

---
---
History of the Lancia Montecarlo
The Lancia Montecarlo is a mid-engined sports car designed by Pininfarina and manufactured by Lancia in Italy from 1975 to 1981. Cars from the first series, built from 1975 to 1978, were titled Lancia Beta Montecarlos, while those from the second series, manufactured from 1980 to 1981, were known simply as Lancia Montecarlos. Montecarlo was spelt as a single word in both circumstances, unlike Monte Carlo in the Principality of Monaco. Both series were available in Coupé and Spider body styles, with the latter incorporating a one-of-a-kind roll-back manually controlled Targa-style convertible top. During 1976 and 1977, a modified version of the Spider was marketed in the United States as the Lancia Scorpion.
The engine was a dual cam, 1995 cc Lampredi inline-four that produced 118 horsepower at 6000 rpm. Lancia claimed a maximum speed of over 190 km/h and timing from 0 to 100 km/h of 9.3 seconds. The total number of units produced is 7,798 units, with manufacturing running from 1974 to 1984. There were 3,558 first series and 817 second series Targas constructed, as well as 2,080 first series and 1,123 second series coupés. There were also 220 competition models constructed (Lancia 037).
Lancia Monte Carlo FAQ
Q: What size tyre did the Lancia Beta Monte Carlo fit?
A: Both the Lancia Montecarlo and the American convertible version of the Lancia Scorpion fitted 185/70R13 tyres.
Q: What tyre pressures should be in the Beta Monte Carlo Lancia Scorpion?
A we would suggest having 25psi in the front wheels of a Lancia Monte Carlo and 28psi in the rear wheels.
Q: what size wheels did the Lancia Beta Monte Carlo fit?
A: The standard wheel size was 5.5"JX13.
---
Innertube Guides
---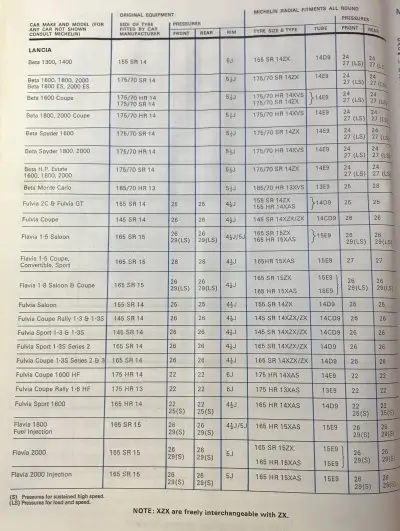 1977 Michelin Lancia Fitment Guide Pg1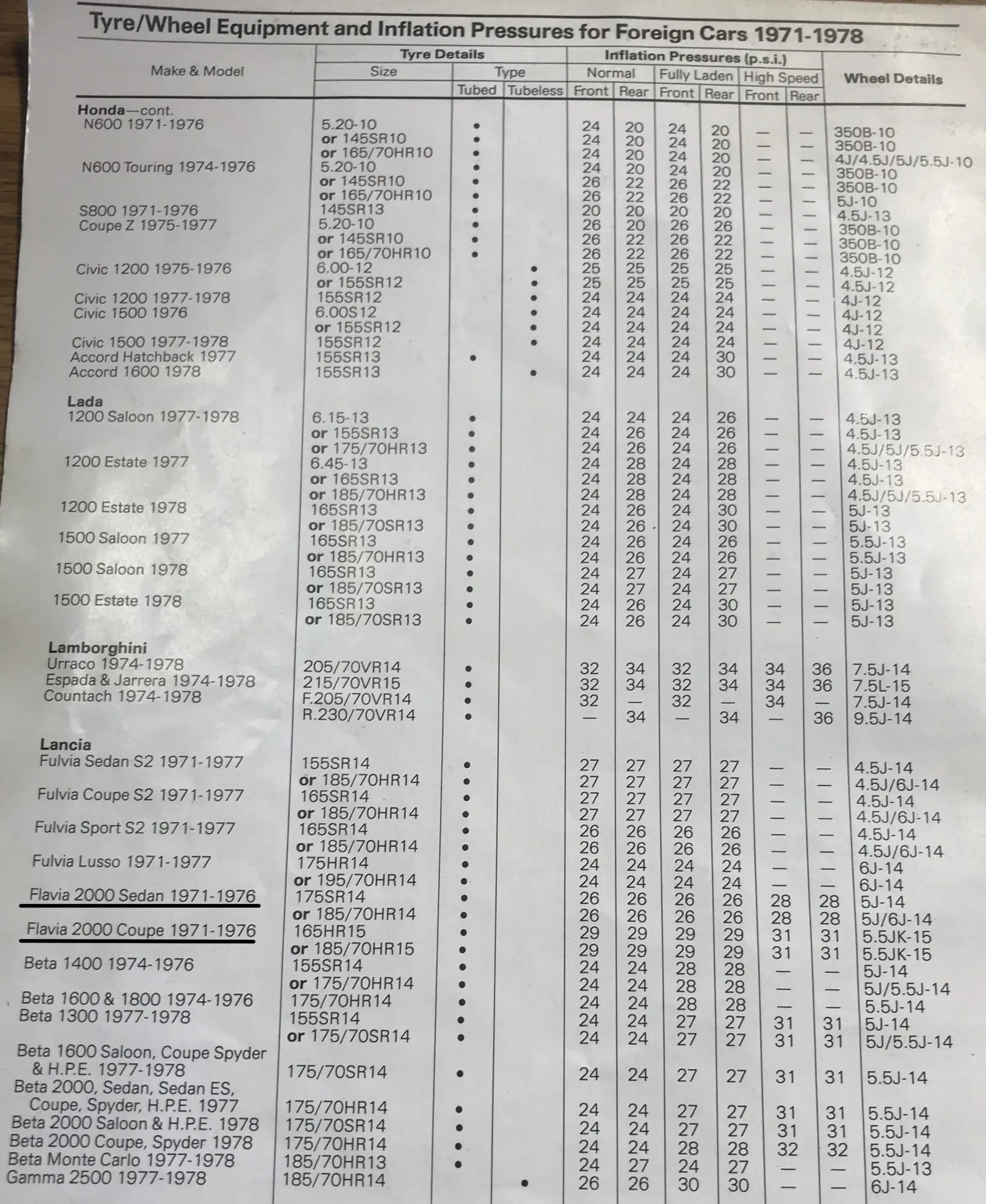 1978 Dunlop Lancia Fitment Guide
1980 Pirelli Lancia Fitment Guide Pg1
1980 Pirelli Lancia Fitment Guide Pg2