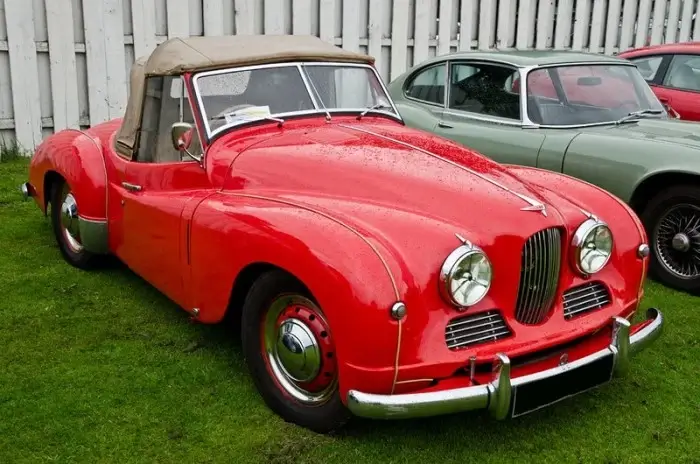 1952 Jowett Jupiter
---
Jowett Jupiter Tyres
---
Originally the Jowett Jupiter fitted crossply 550 - 16 Tyres. We would suggest the best standard tyre is 5.50 x 16 Avon Tourist.
In period if Jowett owners wanted to upgrade their car to radial they would fit 5.50 R 16 Michelin X.
From 1954 the last of the Jowett Jupiter changed to 15" wheels and fitted 590 - 15 Tyres.
We would suggest the best tyre for these later cars is the 165 HR 15 PIRELLI CINTURATO CA67 or the 165 SR 15 Michelin XZX.
Although originally the Jowett's of the 1950s did fit crossply tyres, we would suggest taking advantage of the radial alternatives recommended below. You will find they give improved directional stability and will make your Jupiter more suited to modern roads.
The Jupiter fitted tube-type tyres throughout its production, innertubes are required for these wheels, even if you fit tubeless tyres.
The 15" tyres mentioned above fit a Michelin 15E innertube, and the 16" tyres are best suited to a Michelin 16E innertube.
Jowett Jupiter Convertible
Jowett Jupiter Recommended Tyres

---

---

Other Options for Jowett Jupiter Tyres

---
---
History of the Jowett Jupiter
Built between 1950-1954 the Jowett Jupiter was a 2-seater drophead coupé that was launched following the success of the Jowett Javelin in competition, using the same power train in an attempt to replicate this in a sports car for wider export. The Jupiter would go on to great success in motorsport too, winning class events in 1951 and 1952 in Le Mans.