1949 Ferrari 166 Inter Coupe Touring 2 Litre 12 Cylinder 110hp
---
Ferrari 166 1948–1953
---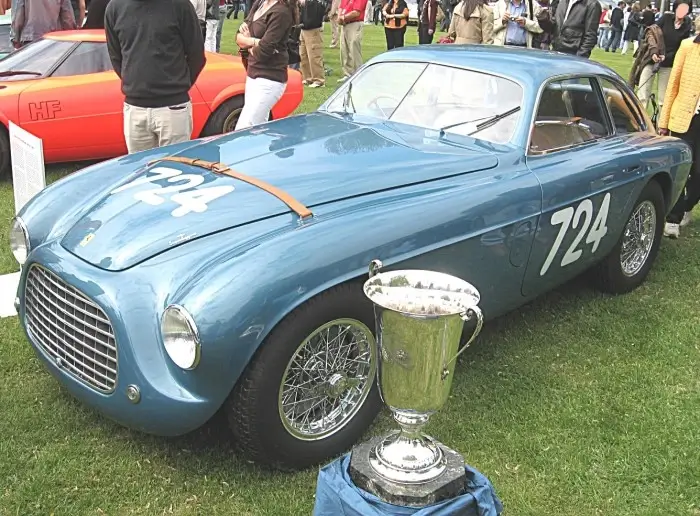 Ferrari 166 MM Berlinetta Touring
Ferrari 166 Recommended Tyres

---

---

Other Options for Ferrari 166 Tyres

---
---
History of the Ferrari 166
The Ferrari 166 S was a development of Ferrari's 125 S sports race vehicle, which became the 166 Inter, a street-legal sports car. Only 39 Ferrari 166 S were built, which was quickly followed by the manufacture of the 166 Mille Miglia (MM), which was built in far higher quantities from 1949 to 1953. The 166 MM were modified 166 Ss that scored many of Ferrari's early international triumphs and established Ferrari as a major competitor in the racing sector. It shared the 125's tube frame and double-wishbone/live axle suspension, both developed by Aurelio Lampredi. The wheelbase was 2420 mm long, much as the 125. Since its debut at the Turin Motor Show in 194, 39 copies have been built. It was replaced by the 2.3 L 195 S in 1950. The first 166 Inter was designed by Touring's chief stylist, Carlo Anderloni. 166 S competition models were generally coach built by Carrozzeria Allemano.
The 1.5 L Gioacchino Colombo-designed V12 engine of the 125 was changed, however, with single overhead camshafts specified and a larger 2.0 L displacement. This was achieved with both a bore and stroke increase, to 60 by 58.8 mm respectively. Output was 110 to 140 horsepower at 6,000 rpm with one to three carburettors. Motor Trend Classic named the 166 MM Barchetta as number six in their list of the ten "Greatest Ferraris of all time".
---
Borrani Wire Wheels
Borrani wheels are available for your Ferrari 166. As agents for the iconic Ruote Borrani Milano company we are able to supply all wheels from their extensive range.
If your Borrani wheels require rebuilding then please contact us at [email protected]
Wire wheels made by Ruote Borrani Milano are, without doubt, the best wire wheels available. Borrani wheels utilise aluminium rims, steel spokes and steel wheel centres.
Click the link for Ferrari 166 Borrani wheels.
Wheels made by Borrani are available in the following styles:
Painted silver finish, as per the racing wheels of the period
Polished and chrome finish, highly polished rim, chrome spokes & wheel centre
Painted finish with polished outer edge