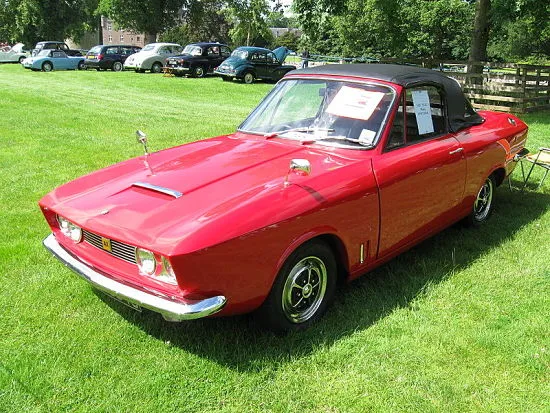 Bond Equipe 2 Litre Convertible
---
Bond Equipe GT Tyres
---
The Bond Equipe GT originally fitted 5.20-13 crossply tyres.
There isn't a 5.20-13 crossply tyre that we would recommend for the Bond Equipe GT.
We would suggest fitting a Bond Equipe GT with 145HR13 PIRELLI CINTURATO CA67.
The Michelin 13D is the correct innertube for these tyres.
Bond Equipe GT tyre pressures are 20psi front and 30psi rear.
Bond Equipe GT Recommended Tyres

---

---

Other Options for Bond Equipe GT Tyres

---
---
History of the Bond Equipe GT
Bond Cars Ltd produced the Bond Equipe, an English 2+2 sports vehicle, from 1963 until 1970. It was Bond Cars' first four-wheeled car. The first Equipe, the GT, was built on a Triumph Herald chassis with a fastback fibreglass body and other Triumph components such as the windscreen/scuttle assembly and doors. The body was revised for the September 1964 GT4S model, with dual headlamps and an opening rear trunk. It featured the same moderately tuned up (63 bhp, raised to 67 horsepower) Herald-based 1147 cc engine as the Triumph Spitfire.
In April 1967, the engine was upgraded to the 75 horsepower 1296 cc Triumph Spitfire engine, barely one month after the Spitfire itself received the same update, and the improved variant was known as the GT4S 1300. As a result, stated output increased by 12%. Simultaneously, the front disc brakes were expanded, and the rear suspension design (one component not brought over unchanged from the Triumph Spitfire) got "attention."