---
Austin Allegro 1973–1982
---
Austin Allegro Estate UK Spec
A standard Austin Allegro is fitted with 145/13 tyres, and Longstone suggests that the 145HR13 PIRELLI CINTURATO ™ CA67 is the best available Austin Allegro tyre for this car.
For a low-profile alternative, the 155R13 PIRELLI CINTURATO CA67 offers the premium tyre for this size.
Some Allegro Models, including the Allegro 1750 MKII, fitted 165/70R13 tyres. Quality classic tyres are not currently made in this size. We would suggest moving up to the 175/70 R13 size and fitting the 175/70 VR 13 PIRELLI CINTURATO CN36.
Our period fitment guides show that the Allegro was released on tubeless wheels, so innertubes shouldn't be a requirement, provided the wheels are OE.
You could still fit innertubes to tubeless wheels, perhaps because you have tube-type tyres, a puncture, or you are not confident your rims are airtight.
An Allegro fitted with 145R13 tyres fits a Michelin 13CG innertube, 155R13 tyres are best suited to the Michelin 13D innertube, and 175/70R13 tyres are best suited to Michelin 13E.
Estate models of the Allegro made only in 1976 are fitted with 155 wheels, the 155R13 PIRELLI CINTURATO CA67 or the 155 HR 13 Michelin XAS FF are Longstone's suggested tyre for this size, being of the best overall quality.
Austin Allegro Recommended Tyres

---

---

Other Options for Austin Allegro Tyres

---
---
Independent Tyre Test - The Results
In the world of modern tyres it is commonplace to come across a tyre test. Sadly, in the world of classic tyres, the investment never seems to be there to do a proper modern tyre test. However, a German magazine in July 2016 conducted this modern tyre test using classic tyres. This classic tyre test has been translated from German to English. What is remarkable in this tyre test is quite how well the PIRELLI CINTURATO ™ CN36 classic tyre performed in the table at the end. The scores in this table are not scored in relation to the other tyres in the test, so when a score of 1 is recorded, then that is a perfect score for a classic tyre or a modern tyre. It is wonderful to see that these classic PIRELLI CINTURATO ™ CN36 tyres can give such exemplary results.
---
History of the Austin Allegro
The Austin Allegro, despite having a fair selection of engines, decent Hydragas suspension, and five gears, was plagued by construction quality and reliability concerns (as were many British Leyland cars at the period). The Allegro's odd appearance is still appealing to new classic vehicle buyers, with its quartic steering wheel being a somewhat divisive attraction (though this was dropped in 1974 when the SS model was replaced by the HL version).
---
Austin Allegro Fitment Guides
---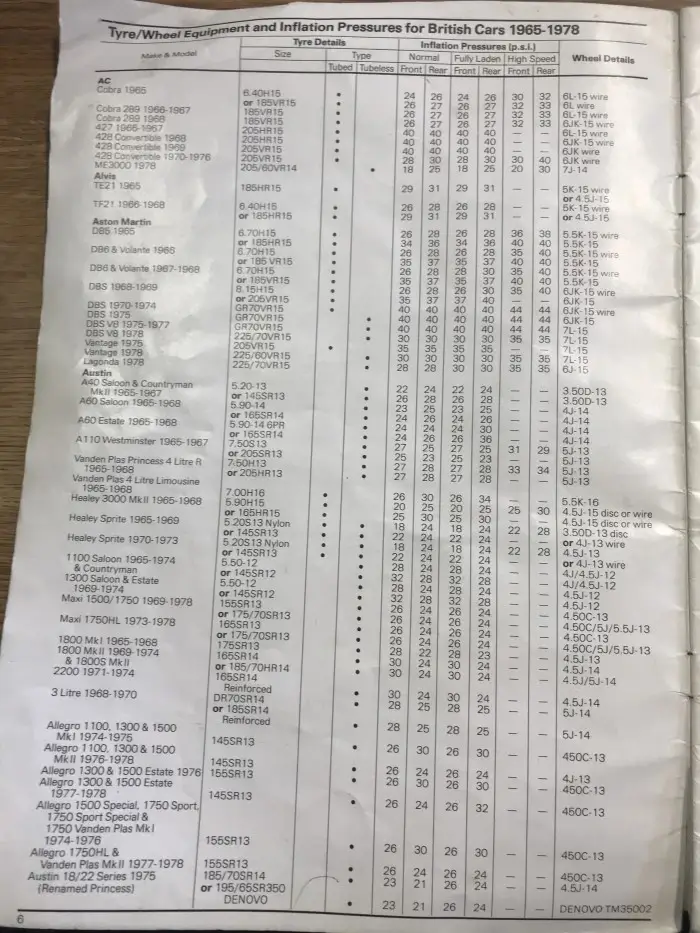 Dunlop 1965–1978 Austin Fitment Guide
1977 Michelin Austin Allegro Fitment Guide
1982 Michelin Austin Allegro Fitment Guide Pg1
1982 Michelin Austin Allegro Fitment Guide Pg2