Shop By
Shopping Options
Price

Free Shipping 2
Peugeot 404 Berline
---
Peugeot 404 Tyres
---


For a Peugeot 404 a set of 165 SR 15 Michelin XZX is recommended by Longstone Tyres.
For these tyres the Michelin 15E is the best innertube.
The 404 was made in Europe until 1975. These models all fitted tube-type wheels and require innertubes.
The 404 continued production in Argentina until 1980 and Kenya until 1991. Our period fitment guides suggest that post-1980 (Kenyan) models fitted tubeless wheels. If you own one of these later Kenyan imports you do not need innertubes for your wheels to function.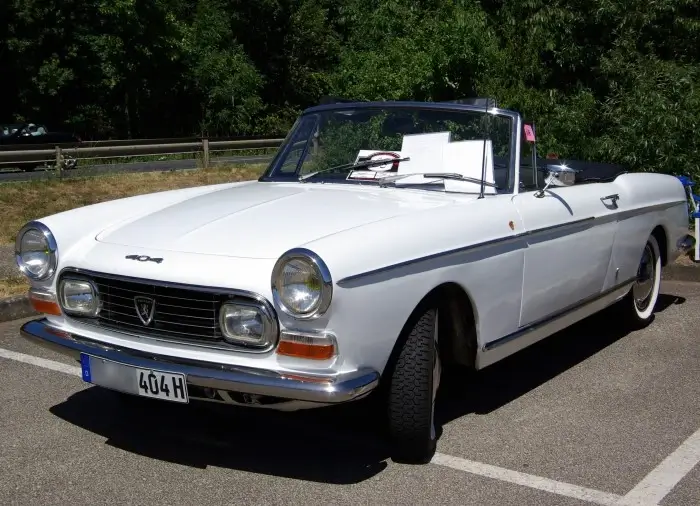 Peugeot 404 Cabriolet
Peugeot 404 Recommended Tyres

---

---

Other Options for Peugeot 404 Tyres

---
---
History of the Peugeot 404
Peugeot 404 Injection
Built between 1960-1975, the Peugeot 404 was a large family car of which 1,847,568 were built in France. It was initially offered as a saloon, estate and pickup with a convertible and coupe version offered later on and would enjoy success as a taxicab due to its fantastic durability and value (though less so in the UK due to import taxes).
The original 404 was powered by a 1.6-litre petrol engine, with choices for a Solex carburettor, Kugelfischer mechanical fuel injection, and a 1.9-litre diesel engine. As an alternative to the normal column-mounted manual transmission, a 3-speed ZF automatic transmission, identical to the type previously available on select BMW models, was introduced as an option at the Paris Motor Show.