1965 Lancia Flavia 1.8 Zagato Sport
---
Lancia Flavia 1961–1975
---
Our period Fitment Guides suggest that some Flavia Models were released on tube-type wheels, but some were released on tubeless wheels. See below to find your model and year, or have a look at our handy Innertube Page for more information.
Tubeless & Tube-Type Wheels Explained
Lancia Flavia Recommended Tyres

---

---

Other Options for Lancia Flavia Tyres

---
---
Lancia Flavia History
Professor Fessia designed the iconic Lancia Flavia in the late 1950s, and it was first sold in the United Kingdom in 1961. It was initially only available as a four-door classic, with a 1.5 L aluminium boxer engine, Dunlop disc brakes on all four wheels, front-wheel drive, and unequal length wishbones for the front suspension. This vehicle was quickly followed by a two-door coupé developed by Pininfarina on a smaller chassis. Vignale created a two-door convertible, while Zagato created an absurdly light two-door "sport" variant. The sport version of the engine had dual carburettors for more power, but it was famously difficult to tune.
The engine was later enlarged to 1.8 L, with a mechanical injection version utilising the Kugelfischer system and a five-speed manual gearbox. When Fiat took over the firm at the end of the 1960s, the Vignale and Zagato models were phased out. The coupé and saloon variants got new bodywork, which was originally seen at the legendary Geneva car show in March 1969. The engine was expanded to 2.0 litres, and it was available with a carburettor or injection, as well as a four or five-speed transmission. Only upgraded Pininfarina Coupe and Lancia saloon bodywork was available for the 2.0 Litre versions.
---
Lancia Flavia FAQ
---
Q: What is the right tyre for a Lancia Flavia?
A: The Lancia Flavia fitted 165R15 tyres. When they came out they probably fitted either Michelin X or Pirelli Cinturato, then later models fitted 165HR15 Michelin XAS asymmetric tyres that came out in 1965.
Q: What is the right tyre pressure for a Lancia Flavia?
A: Predominantly tyre pressure recommendations for the Lancia Flavia from both Michelin and Pirelli in period was 29psi front and rear. However if you see the image below it will give you some more accurate detail about the right tyre pressure for your Lancia Flavia.
---
Innertube Guides
---
1972 Pirelli Lancia Fitment Guide
1974 Michelin Lancia Fitment Guide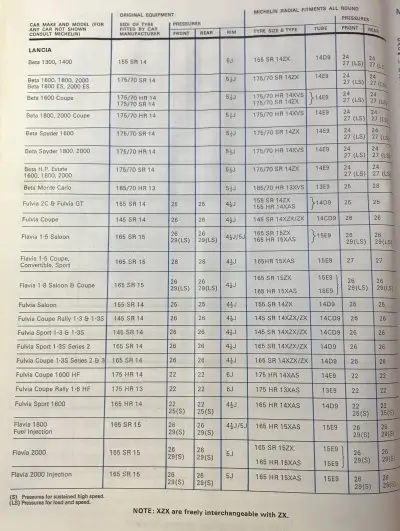 1977 Michelin Lancia Fitment Guide Pg1
1977 Michelin Lancia Fitment Guide Pg2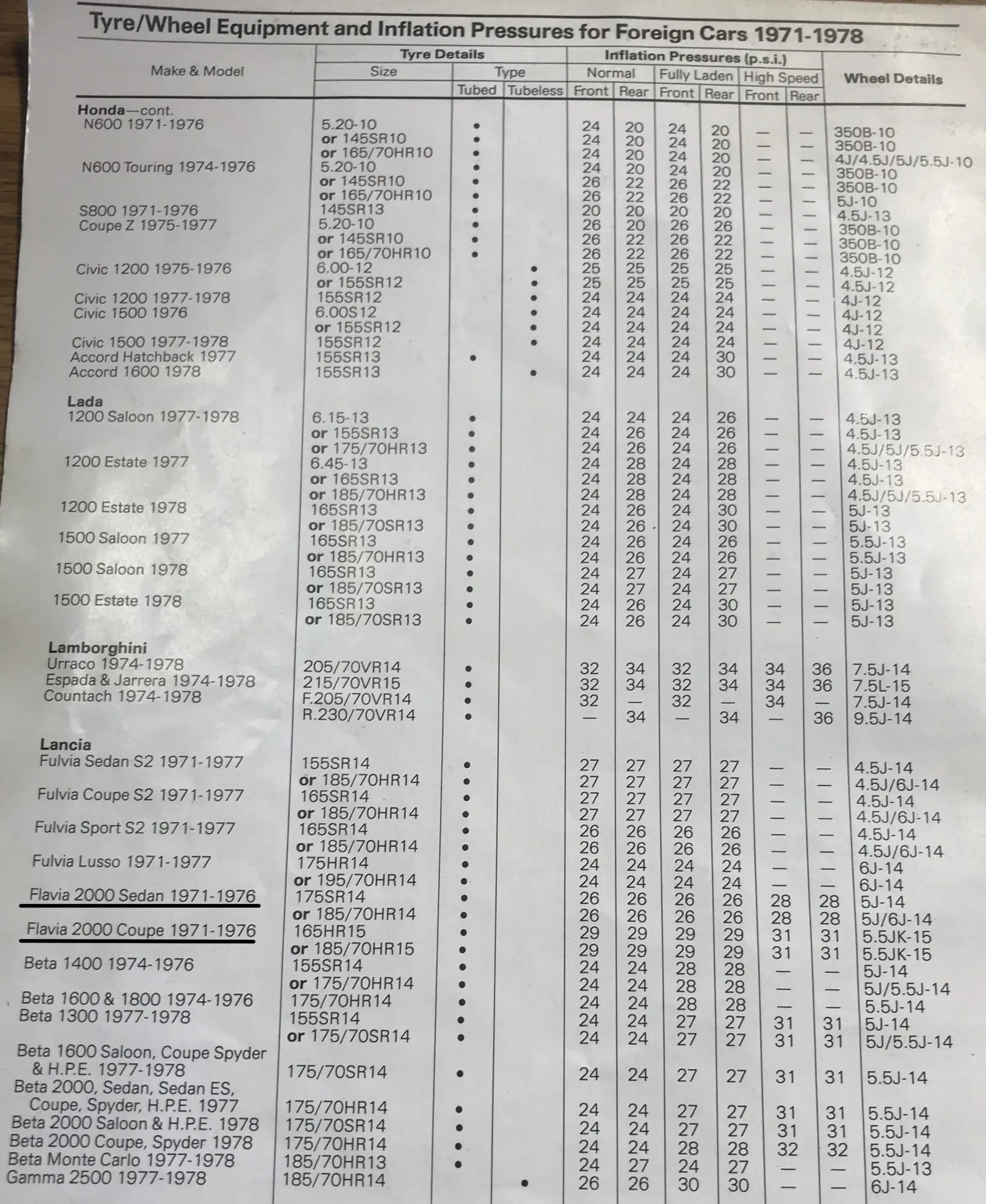 1978 Dunlop Lancia Fitment Guide
1979 Michelin Lancia Fitment Guide
1980 Pirelli Lancia Fitment Guide Pg1
1980 Pirelli Lancia Fitment Guide Pg2