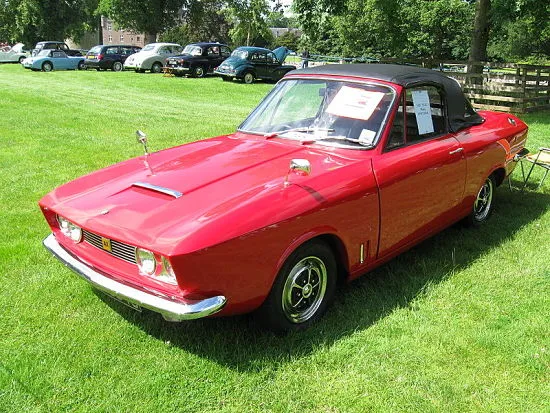 Bond Equipe 2 Litre Convertible
---
Bond Equipe 2 litre
---
The Bond 2.0 GT originally fitted 155 – 13 tyres.
We suggest fitting the 155 HR 13 Michelin XAS FF as the best handling tyre for a Bond 2 Litre GT.
The correct tube for these tyres is the Michelin 13E innertube.
The suggested Bond 2.0 Litre GT tyre pressures are 22psi front & 28psi rear.
Bond Equipe 2 litre Recommended Tyres

---

---

Other Options for Bond Equipe 2 litre Tyres

---
---
History of the Bond 2 Litre
Bond's early plans for a 6-cylinder Equipe GT4S fell through as the business, expecting the arrival of the Triumph Vitesse powertrain for its cars, began to build a far more ambitious new Bond Equipe. Trevor Fiore, who had previously worked with TVR on their stunning but ill-fated Trident, was commissioned to create the initial sketches. However, extensive in-house development work transformed the concept into a viable Triumph-based proposal - the Bond Equipe 2-litre. The new design retained the Triumph Herald/ Vitesse's pressed steel floor and scuttle assembly, although the latter had been extensively redesigned with a bigger, more swept-back windshield frame. The doors, on the other hand, featured modified Triumph shells with newly made Bond pressed-steel skins. As a result, the new Bond Equipe's exterior form provided no hint of its Triumph pedigree.
The first prototype hit the road in May 1967, and the vehicle was unveiled to the public in August of that year. The Equipe 2-litre was powered by a 1998 cc Triumph engine, which gave the car a true top speed of 100 mph and a respectable 0-60 mph time of 11.5 seconds. The inside was also completely remodelled and thought out, with new specially constructed bucket seats in the front and increased rear headroom.