The name Longstone Tyres has been synonymous with retro, veteran, vintage and classic tyres for over 30 years. We are attentive to all your tyre and wheel needs and are here to offer you advice and support whatever your enquiry. You are welcome to view our retro rubber selection at our Bawtry warehouse where the kettle is always on, and there are usually several retro, vintage and classic cars worth a glance at the workshop. We offer free fitting and advice and occasionally biscuits. Our stock ranges from beaded-edge tyres to the millimetric Michelin TRX tyre, fitting everything from the beginnings of Daimler Benz to Renault Alpine and Ferrari Testarossa.
We are a passionate bunch of petrol-heads with the expertise and skills to help you to make the correct decisions about the tyres you need for your classic, vintage or veteran cars.
At its Bawtry base in South Yorkshire, Longstone Tyres has been operating under the keen hand of...
---
...
Managing Director Dougal Cawley
since 1999. Dougal's history with vintage and classic cars is well established; Having been influenced by his family as a child he grew up to develop his own love for many classics with a strong fetish for the Cortina MkV. Having joined the VSCC Dougal has, with his family, competed in trials in his Model A Fords as well as sprints and races in GN Ford 'Piglet'. Since running Longstone Tyres, Dougal's knowledge of tyres has become comprehensive and practically nerd-like; these days he is unable to walk past a vintage or classic without checking out its boots! He constantly delves into the history books to find information regarding Original Equipment (OE) tyres and will always endeavour to source the correct tyres for every classic car - even if it means getting one made. Dougal's somewhat unconventional character has been seen championing Longstone Tyres at many car shows across the world from Birmingham's NEC to Pebble Beach via Retromobile in Paris. It has been known for him to appear in the press and on the television too - such is his passion for the company, selflessly courting air-time to promote correct tyre choice. If you google Dougal (!) he takes up the first page.
dougal@longstonetyres.co.uk
Would love to own:
26M Maserati and Lotus Elite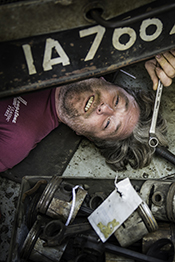 ---
...
Simon Cox
has been with Longstone Tyres for most of its duration and is Dougal's right-hand-man. A lover of Lancia, Simon has owned several classics including Lancias and Beetles. You'll often speak to him either on the phone or at race meetings where he'll confidently assist you with your tyre queries. Simon's car knowledge is incredibly comprehensive and we suspect he misspent his youth hiding 'The Motor car' magazine beneath his bed. However, the vast bank of data in his head is of utmost benefit to anyone wishing to seek expert advice on the right tyres for their car.
simon@longstonetyres.co.uk
Would love to own:
All the Lancias
---
...
Tom Homan
is Longstone Tyres' workshop manager whilst also being salesman and has been with the company for eight years. He's had his fair-share of vehicular oddities including a Ford Escort, Trabant and an MX5 which he part-owns and uses as an MCC trials car. Tom's enjoyment of driving up muddy hills in the dark with poor visibility and a serious lack of sleep allows him to empathise with many other classic car owners. You will often speak to Tom on the telephone and he is present at most car events we do.
tom@longstonetyres.co.uk
Would love to own:
An enormous wicker-bodied Edwardian
---
...Adam Brocklehurst is chief rubber handler and is the main player in our gift-wrapping department (OK - he tapes the tyres up for delivery). Alongside this, Adam has vastly outstripped Dougal in terms of tyre- fitting and can often be seen wrangling with rims and beaded edges. Adam too has a keen interest in cars and currently drives to work in a bright blue MkV Cortina.
Would love to own: Bond Mini Car!
---
...
James Davison
- 'James - comme le James Bond' is how our French man James explained his name to the French at an autojumble. With a deceptively English name (His Bradford father married his Parisian mother) James is our link to the continent and deals with our French and Belgian market. As well as sales James is an internet wizard and develops many aspects of our website. James' personal interest in cars has been hampered by his lack of funds due to having been thrust through the paying university fees system. However he currently gets around on two wheels with his FZ600
jamesd@longstonetyres.co.uk
Would love to own:
DeLorean and Citroen DS
---
...
Liz Cawley
- 'Longstone Liz' is Dougal's lucky wife (his words not hers) and has been demoted from housewife to being Longstone's marketing mogul creating the oh! so controversial adverts for the international and local club magazines. With a long-established love of all things old (Ahhhhh, Dougal - she loves you) Liz has taken little encouragement to involve herself fully with the VSCC and Frazer Nash car club, owning a model A Ford, an Austin 7 and competing in sprints in Dougal's GN 'Piglet'.
liz@longstonetyres.co.uk
Would love to own:
Navy Blue Ferrari 250 Lusso